Saturn Apartments: Volume 5 manga review
By Leroy Douresseaux
May 9, 2012 - 08:24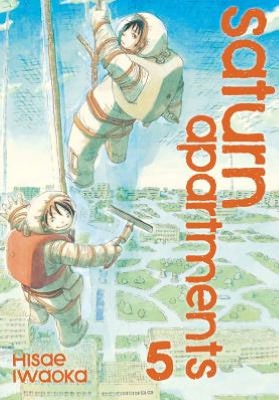 Saturn Apartments Volume 5 cover image is courtesy of barnesandnoble.com
Rated "T" for "Teen"
The Ring System is a gigantic structure that forms a ring around the Earth in the stratosphere, 35 kilometers above the surface. This is civilization, a huge apartment complex where humanity lives after Earth was abandoned as a nature preserve. Even this kind of apartment complex needs window washers. This is the story of the newest window washer, Mitsu. He cleans windows on the upper levels, just as his father did before he mysteriously fell from his tether.
As Saturn Apartments, Vol. 5 opens, Ms. Haruko and Mitsu visit the egg woman, where they will find unique dishes and an unusual hobby. Meanwhile, at work, Mitsu is taking his job seriously, perhaps a bit too seriously, as far as his co-workers are concerned. They resent the care and diligence Mitsu puts into cleaning windows. When Jin takes a day off, he puts Mitsu in charge. There is open rebellion and resistance from the other washers, and they make threats. One day, while checking on a colleague's work, Mitsu's radio goes dead, and his friends wonder if he will share his father's fate.
THE LOWDOWN: Of the many genres that shape the Saturn Apartments manga, workplace drama fits quite well. The art of creator Hisae Iwaoka reminds me of 1970s and 80s era Moebius and of Kozue Amano's art in the manga, Aqua. This graphic style fits Saturn Apartments, which has a sense of wonder, discovery, and mystery about it.
An ongoing sub-plot in the series is that a group of people, including Mitsu, are building a craft with which they can use to descend to the Earth. As the plot thickens, Iwaoka introduces new characters, and others, already introduced, get bigger roles. As I've previously written, Saturn Apartments seems like a nice place to be.
POSSIBLE AUDIENCE: Readers looking for juvenile science fiction will find a good one in Saturn Apartments.
B+
Rating: B+ /10
Last Updated: August 31, 2023 - 08:12