Comics / Comic Reviews / Marvel Comics
Star Wars: Rogue One – Cassian & K-2SO Special #1 comics review
By Leroy Douresseaux
August 24, 2017 - 19:49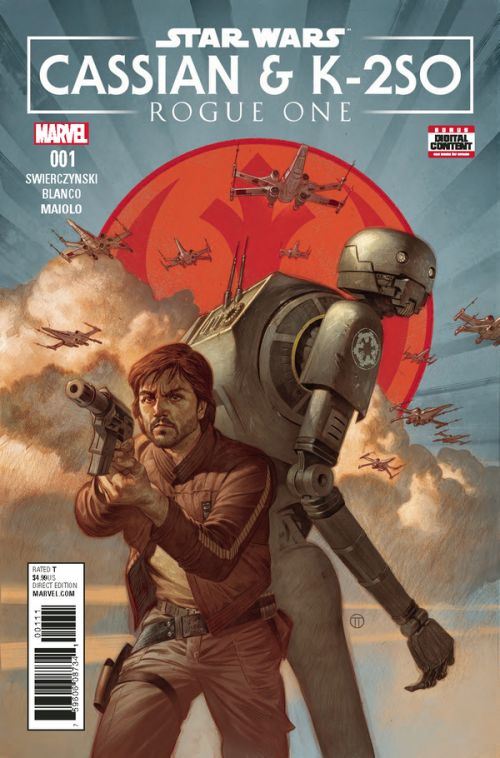 Star Wars: Rogue One – Cassian & K-2SO Special #1 cover image
Rated "T" for "Teen"
Released this past December,
Rogue One: A Star Wars Story
was the eighth live-action Star Wars film. It was also the first Star Wars film that did not directly focus on the main story line of the previous films (the struggle for the fate of the galaxy, pitting the Jedi and the New Republic against the Sith and the Galactic Empire or its antecedents and descendants – with the Skywalker family at the center).
Rogue One was a stand-alone film that is set immediately before the events depicted in the original
Star Wars
(1977) film. In Rogue One, the Galactic Empire grows ever more powerful, but a determined rebellion against it continues to gain strength. A small band of rebels embarks on a mission to obtain classified information about a rumored new Imperial weapon – the Death Star.
Marvel Comics is currently publishing a comic book adaptation of Rogue One, entitled Star Wars: Rogue One Adaptation. Marvel recently published a one-shot comic book set before the events depicted in Rogue One. It is entitled Star Wars: Rogue One – Cassian & K-2SO Special. The story is written by
Duane Swierczynski
; drawn and colored by
Fernando Blanco
; lettered by
Clayton Cowles
.
Star Wars: Rogue One – Cassian & K-2SO Special

#1
focuses on two characters from the film. The first is
Cassian Andor
, a Rebel Alliance Captain and Intelligence officer, who is the film's male lead. Diego Luna played him in the film. The second is
K-2SO
, an Imperial enforcer droid now owned by the rebellion. Actor Alan Tudyk provided K-2SO's voice, and he performed the motion-capture acting for the character during the shooting of the film. K-2SO was created in post-production via computer-generated imagery (CGI).
Star Wars: Rogue One – Cassian & K-2SO Special #1 finds Cassian and two rebel spies,
Kertas
and
Rismor
, arriving on the backwater world of
Wecacoe
. According to rebel sources, this planet is where the remains of a decommissioned Imperial Cruiser that has fallen into private hands is located. Cassian's mission is to sneak inside the ship and uncover Imperial security protocols. Standing in his way is an unexpectedly large content of Stormtroopers and a feisty droid.
THE LOWDOWN:
Star Wars: Rogue One – Cassian & K-2SO Special #1 is basically a short story that tells how Cassian Andor came into possession of the Imperial droid, K-2SO, that we see with him in film , Rogue One. The story's actual length is 30 pages, and it has a sleight plot. The story is not really a heist tale so much as it is a stop-and-rob or dash-in-grab tale with Cassian doing the stealing, while Kertas and Rismor run interference. Readers should not expect any character development or reveals, but the story, for what it is, is expertly executed by Swierczynski.
The art and graphical storytelling by artist Fernando Blanco is good, if not spectacular. Blanco obviously comes across as a credible Star Wars comic book artist (which is not something everyone call pull off). His layouts, coloring, and page design make up for slightly awkward figure drawing. I think Blanco is an artist that will continue to improve, and I hope to see more Star Wars comic books drawn by him.
I READS YOU RECOMMENDS:
Readers of Star Wars comic books will want to enjoy
Star Wars: Rogue One – Cassian & K-2SO Special
#1, a little back story from the world of Rogue One.
B+
7 out of 10
Rating: 7 /10
Last Updated: January 24, 2022 - 11:00