Comics / Comic Reviews / More Comics
Star Wars: Rogue One Graphic Novel Adaptation comics review
By Leroy Douresseaux
December 13, 2017 - 11:24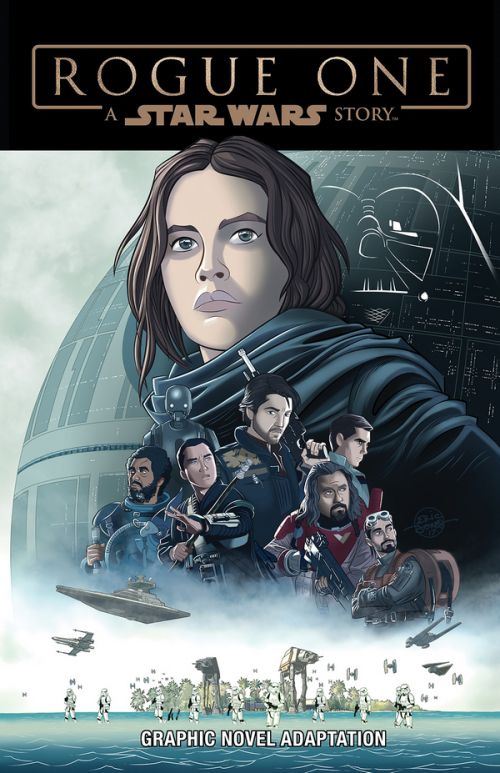 Star Wars: Rogue One Graphic Novel Adaptation cover image
IDW Publishing is publishing U.S. editions of
Star Wars
graphic novels drawn by a group of Disney artists, apparently based in Italy. This group's art is intended to bridge the gap between Star Wars and traditional Disney animation, making these Star Wars comics more attractive for younger audiences that are probably familiar with Disney style art in Disney comic books and illustrated books.
This group also produced an adaption of
Rogue One: A Star Wars Story
, the eighth live-action Star Wars film. Released in 2016, Rogue One is a stand-alone film, meaning it is not part of the original, prequel, or sequel trilogies. Rogue One's story is set immediately before the events depicted in the original
Star Wars
(1977). IDW is now releasing that Rogue One graphic novel as Star Wars: Rogue One Graphic Novel Adaptation. It is written by
Alessandro Ferrari
, who has adapted numerous Walt Disney and Pixar films into the graphic novel format and has also written many comics for Disney Worldwide Publishing.
In
Star Wars: Rogue One Graphic Novel Adaptation
, the
Death Star
, the
Galactic Empire'
s ultimate weapon, looms large. Its near-completion means doom for the
Rebel Alliance
. Enter
Jyn Erso
, daughter of the Death Star's reluctant creator,
Galen Erso
; she desperately seeks to save her father from Imperial control. For this quest, Jyn will join forces with Rebel spy,
Cassian Andor
; his reprogrammed Imperial droid,
K-2SO
, and a small band of rebels. Aboard a ship one of them dubs "
Rogue One
," they will attempt to steal the Death Star's plans and keep hope for the Rebellion alive.
THE LOWDOWN:
At 64 pages of actual comics, IDW's Star Wars: Rogue One Graphic Novel Adaptation is half the size of Marvel Comics' six-issue miniseries, Star Wars: Rogue One Adaptation. Writer Alessandro Ferrari has to excise chunks out of many scenes and sequences, yet he makes the most of the narrative space he has. Ferrari's Rogue One adaptation runs hot and the dialogue is passionate. The threat that looms above the Rebel Alliance, the Death Star, seem genuine and larger than life. It reads as if it were a behemoth bearing down upon the rebels even when it is nowhere near them.
The art is gorgeous. The character drawings convey the dark personalities of the characters and the intensity of their emotions and the grittiness of their determination. The backgrounds and settings are wonderfully painted. You would think the painters were doing this high-quality work for an animated film project, but no, they are turning out this sumptuous painting for a kids' comic book!
The screenplay for the Rogue One film was written by Chris Weitz and Tony Gilroy (from a story by John Knoll and Gary Whitta), and Alessandro Ferrari and the artists of Star Wars: Rogue One Graphic Novel Adaptation have done these writers proud. I hope this creative team gets the chance to do a graphic novel adaptation of Star Wars: The Last Jedi, and I am sure I am not the only one waiting to see what they can do with this new Star Wars film.
I READS YOU RECOMMENDS:
People looking for kids' Star Wars comics will like
Star Wars: Rogue One Graphic Novel Adaptation
.
A
8 out of 10



Last Updated: January 24, 2022 - 11:00