Comics / Comic Reviews / Marvel Comics
AVENGERS #79
By Loretta Ramirez
Mar 1, 2004 - 11:44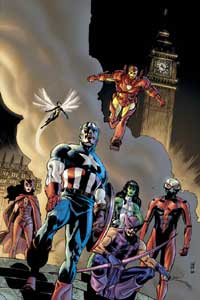 "I don't even want to talk about this with you," complains the angry Wasp; and this sentiment of disgust imbues the entire issue of "Lionheart of Avalon, Part 3" by Chuck Austen and fill-in artist, Sean Chen. Here, the Avengers lash out at each other over a civilian's death and implausibly transform into angry and unreasonable fools, more appropriately found in a morally bankrupt reality show than in a book about Earth's Mightiest Heroes.
Although the premise is initially interesting and the set-up of classic character themes is promising, this story abruptly nosedives. The character inconsistencies are atrocious. Captain America callously refers to the civilian's death as "stupid," Wasp and Yellowjacket's spousal abuse theme inexplicably erupts, and Hawkeye shockingly becomes a bungling would-be-killer. Austen has replaced moral values with shock value.
Although there are a few sketchy moments, Chen is a smooth fill-in for Copiel and excels in capturing facial expressions. The extreme range of (albeit inappropriate) emotions that overwhelms Hawkeye is movingly rendered. Particularly powerful is a scene where Hawkeye stands in a hallway, listening to the children's anguish. Additionally, the children's extreme grief is heartbreaking, especially as the little girl wails in She-Hulk's arms.
Overall: D
Last Updated: Jun 26, 2018 - 9:28