Resident Evil: The Marhawa Desire Volume 2 manga review
By Leroy Douresseaux
January 29, 2015 - 21:38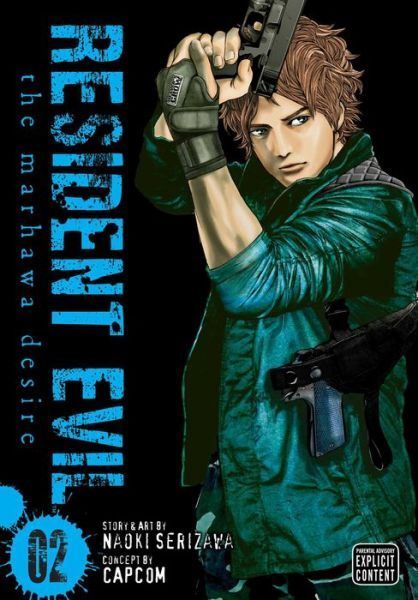 Resident Evil: The Marhawa Desire Volume 2 cover image is courtesy of barnesandnoble.com.
Follow me on
Twitter
.
Rated "M" for "Mature"
Resident Evil: The Marhawa Desire
is a seinen manga that serves as a comic book prequel to the story line of CAPCOM's bestselling
Resident Evil
® 6 video game. Resident Evil 6 introduces the highly virulent C-virus, but where did this new outbreak begin?
The Marhawa Desire
introduces
Doug Wright
, a professor in the Department of Sciences and Engineering at Bennett University, who specializes in bacteriology. He receives a letter from
Mother Gracia
, headmistress of
Marhawa Academy
, Asia's largest and most prestigious school. Wright, who had a past relationship with Gracia, rushes to the school, with his nephew, 20-year-old
Ricky Tozawa
, in tow. Marhawa Academy is located deep in the jungle in a giant, self-contained and self-sufficient complex. There, Prof. Wright and Ricky find themselves caught in a deadly and growing tragedy and perhaps, epidemic.
As
Resident Evil: The Marhawa Desire

, Vol. 2
(Chapters 7 to 15) opens, Wright and Ricky continue their investigation of the biohazard outbreak at Marhawa. They are about to enter the underground lab and school control room where the first incident of the outbreak apparently occurred.
Tahir Kapoor
, a school security guard, and
Ray Hsu
, a senior teacher, are accompanying them, but everyone is surprised when someone else demands to join the group. It is student council president,
Bindi Bergara
, and she will not take "No!" for an answer. She will have to hold her own as the group quickly faces an attack by infected workers. Bindi also learns of "
a hooded woman
," who may be connected to her. Meanwhile,
Chris Redfield
and his
B.S.A.A.
(Bioterrorism Security Assessment Alliance) team continue to search for Prof. Wright.
THE LOWDOWN:
I have never played any
Resident Evil
video games, nor have I ever read the
Resident Evil
comics produced by Marvel and Wildstorm years ago. However, I am a big fan of the
Resident Evil
live-action film franchise that began with a film entitled
Resident Evil
(2002). I was excited at the announcement of the
Resident Evil: The Marhawa Desire
manga.
I enjoyed Vol.1 and my reading pleasure continued with
Resident Evil: The Marhawa Desire Volume 2
. I am not going to declare that
Resident Evil: The Marhawa Desire
is the best comic book of the year, but it is one of the best horror comics of late. It does what it does quite well, and what it does is zombie horror and mystery suspense.
Naoki Serizawa
, the writer and artist behind
Resident Evil: The Marhawa Desire
, presents mystery, conspiracy, and zombie attacks the way bestselling authors deliver summer potboilers – with good characters and with drama on a slow simmer.
When the simmer reaches the boiling point, it explodes into scenes of chaos that blossom in unexpected way.
Resident Evil: The Marhawa Desire
is as tasty to me as human flesh is to zombies. This is an excellent read. I wonder, have Resident Evil comic books ever been as good as
Resident Evil: The Marhawa Desire
?
POSSIBLE AUDIENCE:
Fans of horror manga and zombie comics will want the VIZ Signature title,
Resident Evil: The Marhawa Desire
.
Last Updated: February 5, 2023 - 09:06