Resident Evil: The Marhawa Desire Volume 1 manga review

By Leroy Douresseaux
November 16, 2014 - 07:18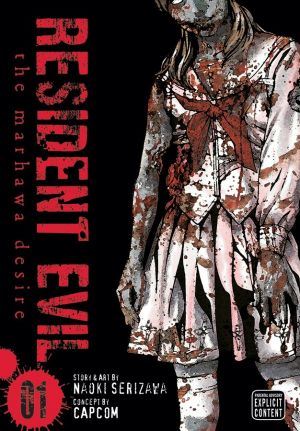 Resident Evil: The Marhawa Desire Volume 1 cover image
Follow me on
Twitter
.

Rated "M" for "Mature"
The manga,
Resident Evil: The Marhawa Desire
, serves as a prequel to the storyline of CAPCOM's bestselling
Resident Evil® 6
video game. VIZ Media is publishing the manga as a 5-volume graphic novel series.
Resident Evil 6 introduces the highly virulent C-virus, but where did this new outbreak begin?
Resident Evil: The Marhawa Desire

, Vol. 1
(Chapters 1 to 6) opens at
Bennett University
in Singapore. There,
Doug Wright
is a professor in the Department of Sciences and Engineering, and he specializes in bacteriology. He receives a letter from
Marhawa Academy
, Asia's largest and most prestigious school. The letter is written by Marhawa's Headmaster,
Mother Gracia
.
The fact that she had some kind of relationship with Wright in the past is probably the reason that Wright rushes to the school, which is located deep in the jungle, a giant, self-contained and self-sufficient complex. Wright takes his nephew, 20-year-old
Ricky Tozawa
, with him because he is failing at Bennett and could use some extra credit work. Prof. Wright and Ricky find themselves caught in a deadly and growing tragedy and perhaps, epidemic. Meanwhile,
Chris Redfield
and his
B.S.A.A.
( Bioterrorism Security Assessment Alliance) is looking for Prof. Wright.
THE LOWDOWN:
First, I have never played any Resident Evil video games. I did not read the Resident Evil comics produced by Marvel and Wildstorm a long time ago. I am a big fan of the
Resident Evil
live-action film franchise that began back in 2002. When I received a press release announcing the
Resident Evil: The Marhawa Desire
manga, I was excited by that news. When my VIZ Media rep sent me a copy of
Resident Evil: The Marhawa Desire Volume 1
for review, I was thrilled.
I like this manga.
Naoki Serizawa
, the writer and artist behind
Resident Evil: The Marhawa Desire
, offers one of those horror stories that starts as a mystery about a conspiracy that a group of people are protecting. Of course, this eventually leads to a horror bigger and worse than anyone realized. I tore through this manga in one sitting.
I think Professor Doug Wright and his nephew Ricky Tozawa are good characters. The reason is because they are two-things necessary in mystery and even horror fiction – open to the mystery, adventurous, and fearless enough/foolish enough to run into the belly of the beast that will eat them or turn them into zombies. I am surprised that this story can be contained in five volumes. Once again, I will admit my love of the Resident Evil movies, as I heartily recommend
Resident Evil: The Marhawa Desire
to you, dear readers.
POSSIBLE AUDIENCE:
Fans of horror manga and zombie comics will want the VIZ Signature title,
Resident Evil: The Marhawa Desire
.
Rating: A /10
Last Updated: August 31, 2023 - 08:12