Resident Evil: The Marhawa Desire Volume 3 manga review
By Leroy Douresseaux
March 15, 2015 - 20:56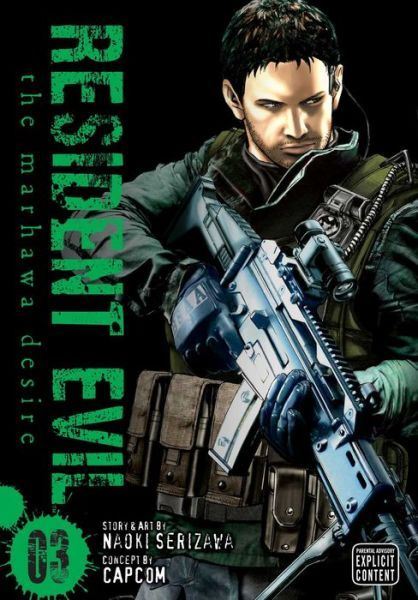 Resident Evil Volume 3 cover image is courtesy of barnesandnoble.com.
Follow me on
Twitter
.
Rated "M" for "Mature"
The
Resident Evil: The Marhawa Desire
manga serves as a comic book prequel to the story line of CAPCOM's bestselling
Resident Evil
® 6 video game. Resident Evil 6 introduces the highly virulent C-virus, and this seinen manga answers the question, where did this new outbreak begin?
The Marhawa Desire
introduces
Doug Wright
, a professor in the Department of Sciences and Engineering at Bennett University. Wright, who specializes in bacteriology, receives a letter from
Mother Gracia
, headmistress of
Marhawa Academy
, Asia's largest and most prestigious school. Wright, who had a past relationship with Gracia, rushes to the school, with his nephew, 20-year-old
Ricky Tozawa
, in tow. Marhawa Academy is located deep in the jungle in a giant, self-contained and self-sufficient complex. There, Prof. Wright and Ricky find themselves caught in a deadly and growing tragedy that is, perhaps, an epidemic.
As
Resident Evil: The Marhawa Desire

, Vol. 3
(Chapters 16 to 23) opens,
Nanan Yoshihara
, the student who was killed some months ago, is revealed as both the "hooded woman" and as a monster. With his uncle gravely injured, Ricky is forced to fight a growing zombie outbreak alone.
Also, the real story behind student council president,
Bindi Bergara
, and Nanan is told. Now, Bindi is determined to force Mother Gracia to reveal the Academy's problems and secrets, and she is willing to take the most extreme measures to force the truth. Meanwhile,
Chris Redfield
and his
B.S.A.A.
(Bioterrorism Security Assessment Alliance) unit head for the Academy.
THE LOWDOWN:
As I have previously written, I have never played any
Resident Evil
video games, nor have I ever read any of the
Resident Evil
comics produced well over a decade ago (both by Marvel and Wildstorm). I am a big fan of the Resident Evil live-action film franchise that began with the film,
Resident Evil
(2002).
I think that I am enjoying the
Resident Evil: The Marhawa Desire
manga as much as I have enjoyed the films – more in some cases. Without the benefit of CGI, but with the benefit of his imagination and drawing skills,
Naoki Serizawa
, the writer and artist behind
Resident Evil: The Marhawa Desire
, presents zombie violence and gore that would earn him an NC-17 rating were this manga a film. With splatter, gnashing teeth, and flailing tentacles, Serizawa has produced one of the most visually striking horror comics in recent years.
POSSIBLE AUDIENCE:
Fans of horror manga and zombie comics will want the VIZ Signature title,
Resident Evil: The Marhawa Desire
.
Rating: A /10
Last Updated: January 24, 2022 - 11:00