Rasetsu: Volume 3
By Leroy Douresseaux
November 29, 2009 - 08:10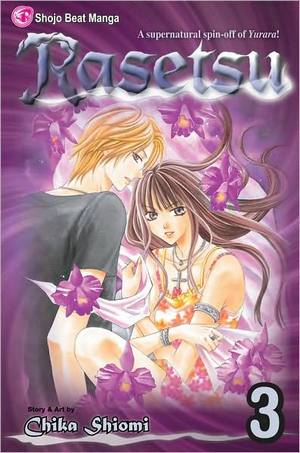 Rasetsu Volume 3 cover image is courtesy of barnesandnoble.com.
Rated "T+" for "Older Teen"
An evil spirit attacked Rasetsu Hyuga when she was 15-years-old. Although she survived the attack, the spirit vowed to return to claim Rasetsu on her 20th birthday… unless she found true love. As a memento of their encounter, the spirit left a bright red flower mark on her chest. Now, an adult Rasetsu works for an exorcist agency, using her special powers to banish evil spirits, while searching for true love.
As Rasetsu, Vol. 3, opens, Rasetsu discovers that the latest person in need of Hiichiro Amakawa Agency's services is her mother, who is actually oblivious of the dark spirit hovering over her. Helping her mother, however, opens old family wounds, including the mystery of why her father gave her the name "Rasetsu" (which is another name for the Rakshasa, a cannibal demon). Now, Rasetsu must dispel both the spirit haunting her mother and the ghosts of her family's personal issues.
Next, Rasetsu's coworker, Yako Hoshino gets a visit from Dai Tendo, a figure from his past, who has ghost trouble. However, Dai's knowledge of Yako's previous "girlfriend" causes a riff between Yako and Rasetsu, whose romantic feelings for Yako are growing. As a bonus, readers also get an up close look at the past and present of Hiichiro Amakawa Agency's bishounen receptionist, Aoi Kugi.
THE LOWDOWN: Created by manga-ka Chika Shiomi, Rasetsu is a spin-off of Shiomi's shojo manga series, Yurara, which like Rasetsu is supernatural romance. Yako Hoshino was the odd-man-out in Yurara's love triangle and now may have found himself in another supernatural love triangle with Rasetsu at the center and coworker Kuryu Iwatsuki also vying for Rasetsu's affections.
Mixing elements of a workplace romance with aspects of a supernatural thriller (hauntings, angry spirits, aggressive entities, etc.), Rasetsu is an enjoyable read because of the gentle courtship, congenial atmosphere, and workplace banter that shapes much of this manga's character relationships. Its gothic elements, especially how love is equated with the supernatural, also invigorate this series, giving the warm romantic mood a bit of a ghostly chill.
POSSIBLE AUDIENCE: Fans of supernatural romance will definitely want to give Rasetsu more than just one try.
A-
Last Updated: August 31, 2023 - 08:12