Rasetsu: Volume 2
By Leroy Douresseaux
September 9, 2009 - 13:51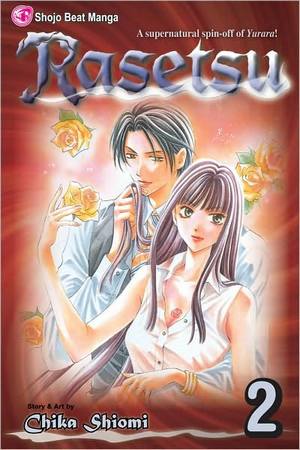 Rasetsu Volume 2 cover image is courtesy of barnesandnoble.com.
Rated "T+" for "Older Teen"
Rasetsu Hyuga was attacked by an evil spirit when she was 15-years-old. Although she survived the attack, the spirit vowed to return to claim Rasetsu on her 20th birthday… unless she found true love. As a memento of their encounter, the spirit left the mark of a bright red flower on her chest. Now, the 18-year-old Rasetsu works for an exorcist agency, using her special powers to banish evil spirits, while she awaits her fate.
As Rasetsu, Vol. 2, opens, Rasetsu has a year-and-a-half remaining before her demonic attacker returns to take her. Not knowing the circumstances, her coworker, Yako Hoshino, thinks that Rasetsu's quest for a boyfriend is frivolous, but what are those strange feelings that Yako is having for Rasetsu? Meanwhile, the rivalry between Yako and fellow employee, the dark, handsome, and very tall, Kuryu Iwatsuki, simmers; is the source of their banter Rasetsu? Then, the entire Hiichiro Amakawa Agency, including boss Hiichiro Amakawa and receptionist Aoi, head to the amusement park for a day of fun, but it's really a work holiday. The park is haunted!
THE LOWDOWN: Fans of manga-ka Chika Shiomi probably already know that Rasetsu is a spin-off of the shojo manga series, Yurara. Yako Hoshino was the odd-man-out in Yurara's love triangle. Shiomi seems to be creating another supernatural love triangle with Rasetsu at the center and Yako and Kuryu vying for her affections – maybe.
Rasetsu mixes elements of the workplace romance with aspects of the supernatural thriller (hauntings, angry spirits, aggressive entities, etc.). Although Rasetsu is like Yurara, Rasetsu isn't a carbon copy, but it sure comes close. Perhaps, that's why I like Rasetsu as much as I do. The character development is not strong, and the drama is soft; even the romance comes across as gooey, junior high puppy love. On nearly every page, flower patterns and effects encircle the characters during moments when love is in the air. But like the troubled spirits that often appear in these stories, Rasetsu possess the reader when simple enchantment isn't enough.
POSSIBLE AUDIENCE: Fans of supernatural romance will like Rasetsu.
B+
Last Updated: September 6, 2021 - 08:15