Rasetsu: Volume 1
By Leroy Douresseaux
May 26, 2009 - 16:05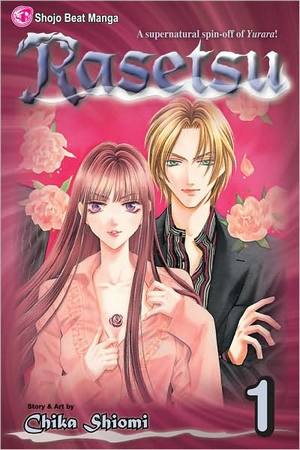 Rasetsu Volume 1 cover image is courtesy of barnesandnoble.com.
Rated "T+" for "Older Teen"
When she was 15-years-old, Rasetsu Hyuga was attacked by an evil spirit. While she survived the attack, the spirit vowed to return to claim her on her 20th birthday… unless she found true love. As a memento their encounter, the spirit left a red flower mark on Rasetsu's chest. Now, the 18-year-old Rasetsu works for an exorcist agency, using her special powers to banish evil spirits.
In Rasetsu, Vol. 1, the Hiichiro Amakawa Agency meets a young man with special spiritual powers of his own. 25-year-old Yako Hoshino works as a librarian, and he is seeking the agency's help because his library has a haunted book. Yako has seen a lot of strange things in his young life, but he is shocked to discover that Rasetsu looks so much like his old love, Yurara!
THE LOWDOWN: In the shojo manga series, Yurara, creator Chika Shiomi, offered readers a love story centered on a supernatural love triangle – two guys and a special girl. The male character, Yako Hoshino, who eventually lost out on love, returns in Rasetsu, a manga spin-off of Yurara. Once again, the new series features a love triangle: Rasetsu, Yako, and Kuryu, a male coworker of Rasetsu's.
Like Yurara, Rasetsu is a supernatural romance, which mixes elements of the workplace romance with aspects of the supernatural thriller (hauntings, angry spirits, aggressive entities, etc.). In fact, Rasetsu seems like a carbon copy of Yurara, which for me and other fans of that series, is a good thing, because I certainly always wanted more Yurara. Shiomi's art is as lovely as ever; not only are the characters drawn so prettily, but the mood for the supernatural sequences is pitch perfect scary. The early chapters of Rasetsu do seem a little lightweight compared to the beginnings of Yurara. Rasetsu lacks passionate characters and focus. While it certainly is entertaining and well done, Rasetsu seems to need some big story event in order for this series to stand out on its own.
POSSIBLE AUDIENCE: Fans of supernatural romance will like Rasetsu.
B+
Last Updated: September 6, 2021 - 08:15