Ranma 1/2 2-in-1 Edition: Volume 1 manga review
By Leroy Douresseaux
March 12, 2014 - 12:00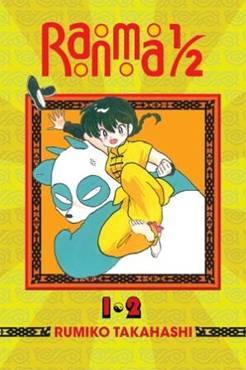 Ranma 1/2 2-in-1 Edition Volume 1 cover image
Rated "T+" for "Older Teen"
VIZ Media is the North American publisher of Ranma 1/2 (or Ranma ½), Rumiko Takahashi's classic martial arts comedy manga that was originally published from 1987 to 1996. VIZ recently began publishing the series again in its "2-in-1 editions," which collects two graphic novels (tankōbon) in one paperback edition. Ranma 1/2 2-in-1 Edition, Vol. 1 collects Ranma 1/2 Volume1 and Volume 2.
Ranma 1/2 introduces a 16-year-old boy named Ranma Saotome who was trained from early childhood in martial arts. While on a training mission in China, Ranma and his father, Genma, dive into some cursed springs at a legendary training ground. As a result, whenever he is splashed with cold water, Ranma turns into a girl, while hot water changes him back into a boy. His father transforms into a panda. What happens to the life of a half-boy, half-girl?
The story really starts years ago when Genma Satome promised his old friend, Soun Tendo, that Ranma would marry one of Soun's three daughters: 19-year-old Kasumi, 17-year-old Nabiki, and 16-year-old Akane. The girl picked to be Ranma's bride doesn't seem to like him, and she also seems to have a lot of suitors – many of them being quite combative. Plus, an old rival of Ranma's returns looking for revenge.
THE LOWDOWN: A truism about the work of mangaka (manga creator) Rumiko Takahashi is that her work mostly defies easy classification. Her manga, for the most part, don't really belong to one genre. If I were forced to pick one, I would say fantasy, because of the various fantastical elements that permeate Rumiko's work. In addition to elements of fantasy, Rumiko's manga incorporate comedy, romance, and martial arts. There is a bit of an edge and a small undercurrent of darkness in her manga, just enough to let the reader know that all is not fun and games.
Ranma 1/2 is a delightful concoction of martial arts comedy and comic teen romance. It is light-hearted and free-spirited, as exemplified in the way the characters so easily leap and levitate through martial arts battles. I found myself in flight with these characters. Ranma 1/2 2-in-1 Edition, Volume 1 allows readers to experience this unique and classic manga in big chunks, and it still might not be enough, once you get hooked.
POSSIBLE AUDIENCE: Fans of Rumiko Takahashi will want to read the Shonen Sunday collection, Ranma 1/2 2-in-1 Edition.
Rating: A- /10
Last Updated: August 31, 2023 - 08:12