VIZ Media Announces Ranma ½ Anime Blu-ray Set 4
By The Editor
November 24, 2014 - 20:56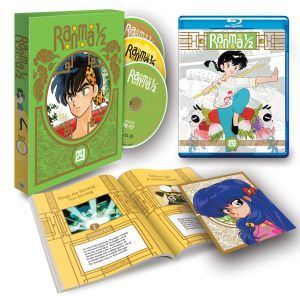 Ranma Set 4 3D Blu-ray Limited Edition image
VIZ MEDIA ANNOUNCES HOME MEDIA RELEASE OF RANMA ½ ANIME SERIES SET 4 LIMITED EDITION BLU-RAY BOX SET
Latest Collection Of Action Packed HD Episodes Of The Legendary Martial Arts Comedy Arrive In Time For The Holidays In A New 3-Disc Blu-Ray Set; Standard Edition DVD Set Also Available
VIZ Media, LLC (VIZ Media), the largest distributor and licensor of anime and manga in North America, delivers a fresh installment of action-packed RANMA ½ anime episodes as it announces the home media release on December 9th of Set 4 in the continuing series of High Definition Limited Edition Blu-ray and HD Standard Edition DVD Box Sets.
VIZ Media is releasing the revered gender-bending martial arts action comedy, based on the popular manga series created by Rumiko Takahashi, in the original Japanese series order across seven Limited Edition Blu-ray and DVD Box Sets. RANMA ½ is rated TV-14.
Arriving in time for the holidays, the RANMA ½ Limited Edition Blu-ray Box Set Set 4 carries an MSRP of $54.97 U.S. / $63.99 CAN. The set contains Episodes 70-92 on 3 discs, presented in full 1080p High Definition resolution with the series' original, un-cropped 4:3 aspect ratio. Bonus features include clean openings and endings as well as series trailers. The set comes in a gorgeously illustrated chipboard box with embossed foil stamping.
The RANMA ½ Standard Edition DVD Set Set 4 also features 23 episodes presented in crisp HD with the original, un-cropped 4:3 aspect ratio, and bonus features that include clean openings and endings and trailers. The Standard Edition DVD set is available with an MSRP of $44.82 U.S. / $51.99 CAN.
The mayhem continues in the latest RANMA ½ home media release!! Shampoo visits Ranma, bringing a souvenir bell from China along with a Phantom Cat, who's in search of a bride! Ranma will have to endure his fear of felines in order to defeat the Phantom Cat. Then, after a series of certain events, Ryoga becomes the strongest martial artist in the world. After that, Kuno gets his hands on a secret sword call the "Mangamaru," which grants the user here wishes, and one of them is to have a date with the Pigtailed Girl! Finally, a mysterious foursome has come from China in search of the legendary Dragon's Whisker and will stop at nothing to get it. But what is the Dragon's Whisker and what does it have to do with Ranma?
RANMA ½ manga creator Rumiko Takahashi is one of Japan's most prolific and respected manga artists and is the creator of several long running series including MAISON IKKOKU, RANMA ½, and INUYASHA – all published in North America by VIZ Media. The spotlight on her prolific career began in 1978 when she won an honorable mention in Shogakukan's annual New Comic Artist Contest for Those Selfish Aliens. Later that same year, her boy-meets-alien comedy series, Urusei Yatsura, was serialized in Weekly Shonen Sunday. This phenomenally successful manga series was adapted into anime format and also spawned a TV series and half a dozen theatrical-release movies, all incredibly popular. Takahashi followed up the success of her debut series with one blockbuster hit after another— MAISON IKKOKU ran from 1980 to 1987, RANMA ½ from 1987 to 1996, and INUYASHA from 1996 to 2008. Other notable works include MERMAID SAGA, RUMIC THEATER, ONE-POUND GOSPEL, and RIN-NE (all also published in North America by VIZ Media).
For more information on RANMA ½ or other award-winning anime titles from VIZ Media, please visit www.VIZ.com.
Last Updated: August 31, 2023 - 08:12