VIZ Media Announces Ranma ½ Standard Blu-rays
By The Editor
May 31, 2016 - 22:07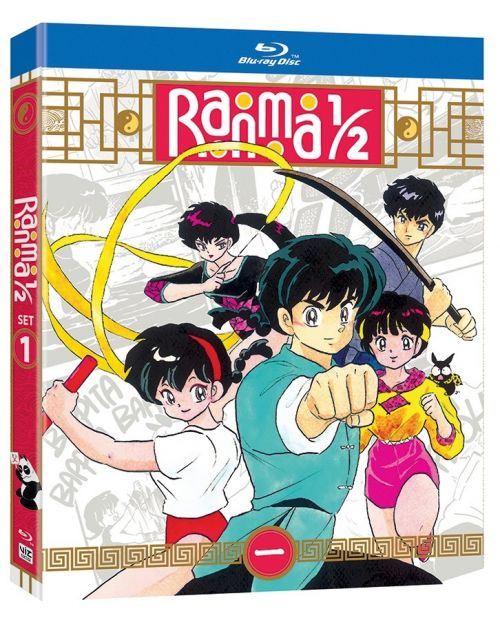 Ranma 1/2 Blu-ray Standard Edition Set 1 cover image - 3D view
VIZ MEDIA ANNOUNCES HOME MEDIA RELEASE OF THE COMPLETE RANMA ½ ANIME SERIES IN NEW BLU-RAY STANDARD EDITION SETS

Beloved Martial Arts Anime Returns In Seven New Adventure-Packed Standard Edition Blu-ray Releases
San Francisco, CA – VIZ Media, LLC (VIZ Media), a premiere company in the field of publishing, animation distribution, and global entertainment licensing, announces the release of new Blu-ray Standard Editions for all 7 RANMA ½ home media sets.
The RANMA ½ Blu-ray sets, which present the complete 161-episode series, are available now and sold individually with an MSRP of $49.99 U.S. / $57.99 CAN. Each set features 23 episodes across 3 discs, along with a variety of bonus material. Extras include convention highlights and RANMA ½ panel discussions, episode previews, series trailers, and a special 7-part "We Love Ranma" series that takes audiences behind the scenes, detailing the processes of the manga and anime release and the enduring popularity of this iconic action adventure series.
RANMA ½ Blu-ray episodes are presented in full 1080p High Definition resolution with the series' original, un-cropped 4:3 aspect ratio. Subtitled and English dubbed dialogue options are available for all episodes.
In the classic RANMA ½ anime series, Ranma Saotome never thought a martial arts training mission to China would turn out like this! An accidental dunk in a cursed spring changes boy Ranma into a young girl, every time he is splashed with cold water. Hot water reverses the effect - but only until next time!
"RANMA ½ is one of anime's most beloved series and we have been very gratified to see how the story and characters continue to resonate with multiple generations of fans," says Charlene Ingram, Senior Marketing Manager, Animation. "Our original run of Limited Edition Blu-ray sets sold out quickly, but we are pleased to make the legendary series available once again across 7 new Standard Edition Blu-ray editions that contain the exact same episode content and bonus features included in the earlier sets. We invite fans to add this epic series to their personal collections."
RANMA ½ manga creator Rumiko Takahashi is one of Japan's most prolific and respected manga artists and is the creator of several long running series including MAISON IKKOKU, RANMA ½, and INUYASHA – all published in North America by VIZ Media. The spotlight on her prolific career began in 1978 when she won an honorable mention in Shogakukan's annual New Comic Artist Contest for Those Selfish Aliens. Later that same year, her boy-meets-alien comedy series, Urusei Yatsura, was serialized in Weekly Shonen Sunday. This phenomenally successful manga series was adapted into anime format and also spawned a TV series and half a dozen theatrical-release movies, all incredibly popular. Takahashi followed up the success of her debut series with one blockbuster hit after another— MAISON IKKOKU ran from 1980 to 1987, RANMA ½ from 1987 to 1996, and INUYASHA from 1996 to 2008. Other notable works include MERMAID SAGA, RUMIC THEATER, ONE-POUND GOSPEL, and RIN-NE (all also published in North America by VIZ Media).
For more information on RANMA ½ or other award-winning anime titles from VIZ Media, please visit www.VIZ.com.
Last Updated: August 31, 2023 - 08:12