Radical Publishing's Nick Simmons Does Free Comic Book Day
By The Editor
April 30, 2009 - 13:12
Nick Simmons to sign at Meltdown Comics for Free Comic Book Day
This Saturday, May 2nd at Meltdown Comics in Los Angeles, California, Nick Simmons, son of Gene Simmons and star of Gene Simmons Family Jewels, will be signing the Radical Publishing book Radical 2009, which showcases his upcoming title, Incarnate, for Free Comic Book Day, the annual event on the first Saturday in May that has participating comic book shops around the world giving away comic books absolutely FREE to anyone that comes into their stores.
Nick Simmons will be signing from 12:00 P.M. to 2:00 P.M. and A&E will be on hand to film the signing for an upcoming episode of Gene Simmons Family Jewels.
In addition, as announced by Gene and Nick Simmons on Los Angeles radio station 95.5 KLOS's The Mark and Brian Show, 5 lucky winners who come to Meltdown on May 2nd from 12:00 P.M. to 2:00 P.M. and sign up for the Radical Newsletter will receive a pair of RSVPs for the upcoming Radical Event at the Hard Rock taking place during San Diego Comic-Con International, July 23rd-26th. The Radical event will feature Gene Simmons and very special guests onstage performing KISS music followed by a landmark jam session.
Incarnate #1 from creator, writer and artist Nick Simmons will debut in July 2009 at San Diego Comic-Con International. See below for a synopsis of the story and be sure to come by Meltdown Comics this Saturday for Free Comic Book Day.
Mot is a boy who cannot die.
Riddle him with bullets, burn him at the stake, douse him with napalm, hang him from the gallows…still, he will walk away.
Forever haunted by a mysterious doppelganger that no one else can see, Mot has wandered the world for centuries, searching for meaning and, perhaps, an end to his endless life.
He is a Revenant—an immortal, ageless creature that has existed since time immemorial. Their origins are a mystery—they have been worshipped as gods, feared as monsters, and scorned as devils. But they have always been there, living in plain sight, in the bright altars and dark corners of every ancient civilization since the beginning of humanity. There has never been a force on this earth that has been able to give them the death that Mot, secretly, seeks.
Until now.
Now, something is different. Now they are being hunted.
A shadow organization, known only as Sanctum, has discovered a way to kill the Revenants, and is carrying out a secret genocide that spans the globe. Mot, his protégé Connor, and the rest of the Revenants now must decide how to ensure their place at the top of the food chain.
Mot finds himself smack in the middle of an escalating war between mortals and immortals, neither of which he identifies with. Will he choose a side? Or will he be labeled a traitor, and be hunted down not only by humans, but also by creatures as invulnerable and merciless as he is?
Nick Simmons' breakout American Manga title reveals a world that challenges even the imagination, planting its tongue firmly in cheek, then biting it off...And swallowing it.

For more information on Meltdown's signings for Free Comic Book Day, please visit www.meltcomics.com.

About Radical Publishing
Radical Publishing is founded by Barry Levine (producer for Hercules, Caliber, Freedom Formula and executive producer for the in-development Rex Mundi movie for Warner Bros., written by Jim Uhls and starring Johnny Depp) and his protégé Jesse Berger (executive producer for Hercules, Caliber and Freedom Formula).
For their quality and excellence in 2008, retailers voted Radical Publishing the Gem Award for "Best New Publisher of the Year" from Diamond Comic Distributors. Radical brings the best writing, storytelling and fully painted cover and interior art to the global comic book market, from prominent international talents such as Yoshitaka Amano, John Bolton, Luis Royo, Jim Steranko, Steve Pugh, Warren Ellis, Arthur Suydam, Steve Niles, Marko Djurdjevic, Ian Edginton, David Hine, Rick Remender, Joseph Kosinski, Nick Percival, Steve Moore, Sam Sarkar, Stjepan Sejic, Dave Wilkins, Tomm Coker, Clayton Crain, Bill Sienkiewicz, Nick Sagan, Clint Langley, Nick Simmons, Patrick Reilly, Weta Workshop, Zombie Studios and many more.
Radical Publishing currently has production deals with Universal Studios, Spyglass Entertainment, Peter Berg's Film 44 and Radical Pictures for Hercules; Johnny Depp's Infinitum Nihil and Radical Pictures for Caliber; and New Regency, Bryan Singer's Bad Hat Harry Productions and Radical Pictures for Freedom Formula.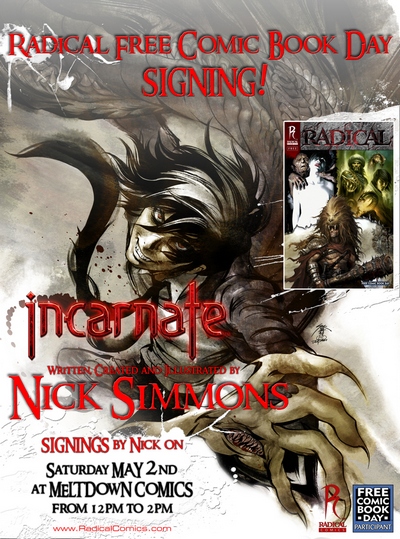 Event poster for Nick Simmons signing
Last Updated: May 19, 2020 - 12:25