Comics / Comic Reviews / DC Comics
Peter Bagge's Other Lives
By Leroy Douresseaux
April 13, 2010 - 20:35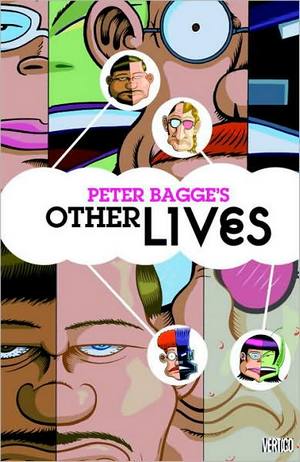 Others Lives cover image is courtesy of barnesandnoble.com.
The argument can be made that writing character drama for superhero comic books is relatively easy considering that readers already think of Batman and Spider-Man and their like as great characters. In comic books, significant character writing comes from such creators as Gilbert Hernandez, Daniel Clowes, Alan Moore, and Chester Brown to name a few. Cartoonists and authors such as these gentlemen fashion humanity out of fictional cloth, creating characters that engage us even when those same characters aren't necessarily likeable. These characters aren't necessarily fan favorites, but they reflect humanity more than superheroes.
Peter Bagge has been creating memorable, human-like comic book characters for three decades, in such publications as Neat Stuff and Hate. Bagge's distinct drawing style, with its exaggerated figure drawing and in-your-face storytelling, is pitch perfect to chronicle the lives of a particular kind of Generation X member, the ones who would be, at best, extras in this drama called life. Bagge's flamboyant style turns fictional characters into lifelike misfits for stories that are part satire and part ensemble drama.
Bagge's latest is Other Lives, a graphic novel published by Vertigo, DC Comics' adventurous and daring imprint. In fact, this is Bagge's first graphic novel, and the cartoonist, himself usually adventurous and daring, plumbs familiar territory. Other Lives focuses on four people who live double lives: one in the real world with which they are not happy and the other on the Internet, where they can be who they want to be. They should be happy, then, right? They aren't.
There is Vladmir Rostov, who goes by the name "Vader Ryderbeck." Vader is a self-loathing journalist who cannot forgive himself for his plagiarist tendencies, and he is also still feuding with his former life as an awkward teen in a dysfunctional immigrant family. Ivy is Vader's marriage-obsessed girlfriend, who discovers the fun of virtual reality in Second World, where she becomes the elfin vixen, "Sh'ia."
Woodrow Whooley is unemployed, divorced, and an online gaming addict, but he lives in Second World as the aggressive "Lord Burlington." Finally, Javier Ortiz lives as Homeland Security "Special Agent Otis Boyd," a conspiracy theorist who also claims to be tracking terrorists for the CIA. Vladimir, Woodrow, and Javier have a past, but it may be their dual identities that decide their fates.
Readers familiar with Bagge's work will recognize both the tone and plot of Other Lives as being familiar, which is not a bad thing. What Bagge does, he does quite well. His ability to cast the imperfections, the trials and tribulations, as well as the joys of a human life into a comic book drama is inimitable. Bagge doesn't mock these hapless players; instead of depicting them as losers – the easy thing to do – he finds the beauty in the awkward lives, while still managing to satire modern life.
In Other Lives, Bagge simply argues that a lovable loser would find a way to live the same screwed up life even in a reality that he could construct. They is what they is, and the duality that modern life offers will not change that. I will quibble with the ending, but Others Lives is still an exceptional work compared to most comic books. Even in black and white, Peter Bagge can reveal the true colors of the modern American.
B+
Last Updated: August 31, 2023 - 08:12