Peter Bagge & Lance Mercer are "Buddies"
By The Editor
June 10, 2007 - 17:46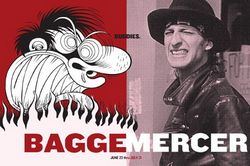 Front of postcard announcing the show
FANTAGRAPHICS BOOKSTORE & GALLERY PRESENTS: "BUDDIES," PAINTINGS & COMICS BY PETER BAGGE, PHOTOS BY LANCE MERCER
Cartoons and photography combine to create a compelling new exhibition at Fantagraphics Bookstore & Gallery in Seattle. "Buddies," featuring paintings and comics by Peter Bagge and photographs by Lance Mercer, opens on June 23. These two artists working in different media share a sensibility unique to Seattle's cultural environment. The show continues through July 31 at 1201 S.Vale St. (at Airport Way S) in Seattle's historic Georgetown district. The opening party on Saturday June 23 coincides with the lively annual Georgetown Carnival and Artopia Arts Festival.
Seattle-based artist Peter Bagge is among the world's most accomplished and influential cartoonists. Borrowing from the formative musical genre of the Northwest in the late 80s, Bagge coined the term "Alternative Comics" to distinguish this new form from the "Underground Comix" of the previous generation. He became a central figure in shaping the aesthetics and chronicling the attitude of Seattle's "grunge" era. His long-running comic book series, Hate, published by Seattle's Fantagraphics Books, follows the exploits of Buddy Bradley and his hapless crew of lovable losers. The series ran 30 issues and poignantly satirized the ubiquitous youth culture of Seattle and beyond.
At the time of its publication, Bruce Barcott of the Seattle Weekly commented, "Twenty years from now, when people want to know what it was like to be young in 1990s Seattle, the only record we'll have is Peter Bagge's 'Hate.'" This body of work has been collected in no fewer than six anthologies, and he continues to create the Hate Annual, currently in its sixth installment. He has subsequently published serials and specials for comic book publishing stalwarts DC, Marvel and Dark Horse. Bagge's work in "Buddies" includes original comic art and will mark the first public viewing of paintings on canvas of his signature characters from Hate.
Georgetown-based photographer Lance Mercer has similarly fashioned a career documenting the countercultural milieu and personalities that provided the inspiration for many of Bagge's comics. In a recent interview on the Sony Music website Mercer explains, "From when I was a young age - I started going to shows when I was 12 - it was pretty obvious to me that music was what I wanted to do and since I wasn't a talented enough musician and couldn't be in a band on stage, I decided to take photos of bands on stage." His work is the subject of two books, Pearl Jam: Place/Date (with Charles Peterson), in 1999, and 5 x 1: Pearl Jam Through the Eye of Lance Mercer, in 2006. Conceptually, the "Buddies" exhibition examines a prominent Seattle subculture through the lens of a participant and the keen observations of a satirist.
The opening reception for "Buddies" on Saturday, June 23 from 5:00 to 8:00 PM highlights a daylong celebration of the arts in Georgetown. The "Georgetown Old Skool Carnival and Artopia Arts Festival" features dozens of family friendly exhibitions and events focusing on the work of the residents of this wonderfully creative community. Innovative art including painting, sculpture, dance, design, fashion, skateboarding, spoken word, music and multimedia installations by established and emerging talent will be presented free from noon to midnight throughout the neighborhood. The carnival includes funky games, prizes, acrobats and the ever-popular Power Tool Races!
LISTING INFORMATION:
Buddies: Paintings and Comics by Peter Bagge and Photographs by Lance Mercer.
June 23 through July 31, 2007.
Opening reception, Saturday, June 23, 5:00 - 8:00 PM.
Fantagraphics Bookstore & Gallery
1201 S. Vale St. (at Airport Way S.), Seattle, WA USA
206.658.0110
Hours: Daily 11:30 - 8:00 PM (Sundays until 5:00 PM).
Last Updated: September 6, 2021 - 08:15