Ooku: The Inner Chambers Volume 12
By Leroy Douresseaux
Nov 28, 2016 - 20:17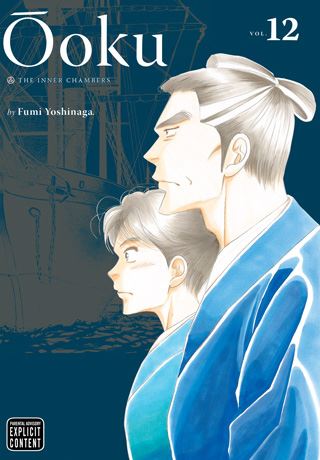 Ooku: The Inner Chambers Volume 1 cover image
Rated "M" for "Mature"
Created by
Fumi Yoshinaga
,
Ōoku: The Inner Chambers
presents an alternative version of Japan's history. In the 1600s, a strange disease, called the
Redface Pox
, begins to kill young men and boys and causes the male population to fall to about one-fourth of the female population. Men eventually become protected as precious "seed bearers," and women take on the roles traditionally held by men, including the role of
Shogun
. This story focuses on life at
Edo Castle
and is set inside its
Inner Chambers
, a sort of harem filled with men who serve the female Shogun.
Ōoku: The Inner Chambers

, Vol. 12
(Chapters 48 to 51) finds the 11th shogun, Lord Ienari, the first male shogun in 150 years, determined to see his country safe from the scourge of the Redface Pox. His mother,
Tokugawa Harusada
, is the real power behind the thrown and she has a firm grasp on it. Ienari approaches
Kuroki Ryojin
, a doctor trained in Western medicine, with a plan to cure Redface Pox and perhaps stop it forever. To achieve these aims, however, Ineari must go around Lord Harusada, who would kill him if she discovered his ambitions.
THE LOWDOWN:
It has been a year since the release of the 11th volume of the
Ōoku: The Inner Chambers
manga? It remains worthy of admiration, and may be one of the best historical manga (if not the best ever) made available to English readers.
Ōoku: The Inner Chambers Volume 12
sees the most sustained effort against the Redface Pox yet. What creator Fumi Yoshinaga makes clear is that what is always best for the country at large is not necessarily of interest to that country's leaders and top government officials. Ōoku often focuses on courtly intrigue, but this volume goes straight to the heart of corruption in the seats of power. The four chapters contained herein comprise a story of grit and of determination to outlast the whims of corrupt power. And I think that is why we must keep reading.
I READS YOU RECOMMENDS:
Readers looking for excellent character and historical drama will find it in the VIZ Signature title,
Ōoku: The Inner Chambers
.
A+
Rating: A+ /10
Support this writer on Patreon
Last Updated: Jun 26, 2018 - 9:28