Ooku: The Inner Chambers Volume 13 manga review
By Leroy Douresseaux
Dec 26, 2017 - 15:17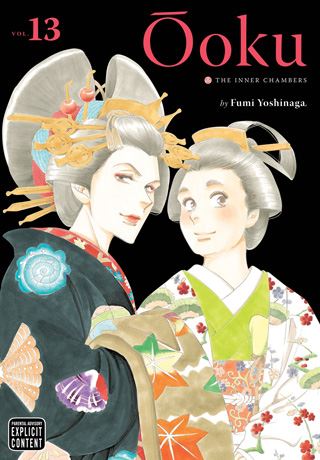 Ooku: The Inner Chambers Volume 13 Graphic Novel cover image
Rated "M" for "Mature"
Ōoku: The Inner Chambers
, from manga creator
Fumi Yoshinaga
, presents an alternative version of Japan's history. In the 1600s, a strange disease, called the Redface Pox, begins to kill young men and boys and causes the male population to fall to about one-fourth of the female population. Men eventually become protected as precious "seed bearers," and women take on the roles traditionally held by men, including the role of Shogun. This story is largely set inside the
Inner Chambers
of
Edo Castle
, a sort of harem filled with men who serve the female Shogun.
Ōoku: The Inner Chambers

, Vol. 13
(Chapters 52 to 55) drifts away from the 11th shogun, Lord Ienari, the first male shogun in 150 years, who saw his country saved from the scourge of the
Redface Pox
. Now, the shogun is his son, the hapless and conniving
Lord Ieyoshi
, but the focus is not on him for long. This is the story of his daughter, the future Shogun and first female shogun in decades,
Lord Iesada
.
Like Ienari, Iesada will see Japan make another leap into the future. She will get help from two people in particular. The first is
Abe Masahiro
, who takes over the family from her brother,
Abe Masayasu
, on her way to becoming the Senior Councillor of the Shogunate. The next is
Lord Takiyama
, a male prostitute from a ruined family who becomes the Senior Chamberlain of the Inner Chambers.
THE LOWDOWN:
It has been a year since the release of the 12th volume of the Ōoku: The Inner Chambers manga? Even now, it remains worthy of admiration, and may be one of the best historical manga (if not the best ever) made available to English-language audiences. And Ōoku is always worth the wait.
Ōoku: The Inner Chambers Graphic Novel Volume 13
moves past the Red Face Pox, and the story now focuses on one of its dominant themes, gender roles. This is one of those volumes when the resentment of men against the capabilities of women is felt most keenly. So much of this series has been about family politics and courtly intrigue that it is easy to look past the narrative's examination of the expectations of gender roles.
This makes for great reading because beyond the surface the story has layers of themes and drama that force the reader to seriously engage what she is reading. Creator Fumi Yoshinaga continues to show that female characters can deliver political intrigue in complex drama as well as (if not better than) any male seed carrier character.
I READS YOU RECOMMENDS:
Readers looking for excellent character
and historical drama will find it in the VIZ Signature title,
Ōoku: The Inner Chambers
.
A+
10 out of 10
Rating: 10 /10
Support this writer on Patreon
Last Updated: Dec 1, 2018 - 19:51