Ooku: The Inner Chambers Volume 8
By Leroy Douresseaux
November 24, 2013 - 16:38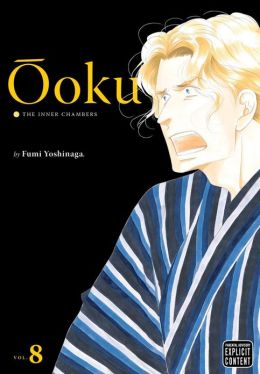 Ooku Volume 8 cover image is courtesy of barnesandnoble.com.
Rated "M" for "Mature"
Created by Fumi Yoshinaga, Ōoku: The Inner Chambers is a manga set in an alternate-Earth version of Japan. It imagines a strange disease, called the Redface Pox, which kills young men and boys and causes the male population to fall to about one-fourth of the female population in the 1600s. Men eventually become protected as precious "seed bearers," and women take on the roles traditionally held by men, including the role of Shogun. This story focuses on life at Edo Castle and is set inside its Inner Chambers, a sort of harem filled with men who serve the female Shogun.
Ōoku: The Inner Chambers, Vol. 8 (Chapters 31 to 35) opens in the 1700s. Lord Yoshimune is Shogun. She has secured her place in history as a cunning and capable ruler. However, it is time for her to officially declare an heir. Will it be her eldest daughter, the oafish and infirm Ieshige, or the witty, wise, capable, and apparently popular choice, Muntake?
Later, Zenjiro, a male cook, moves into the Inner Chambers and takes the name, "Yoshizo." Hated by the other cooks because of his surprising culinary skills, Yoshizo soon begins to prepare food for Sir O-Kou, a disgraced concubine of the shogun. Now, O-Kou refuses to eat, but Yoshizo is determined to prove that his unorthodox approach to cooking can create dishes to make the grieving girl-toy eat.
THE LOWDOWN: The Ōoku: The Inner Chambers manga is one of the best comic books at everything it does. As a character drama, the series has a master in creator Fumi Yoshinaga, who creates attractive new characters for each story arc, and makes each character that she carries from one arc to the next even stronger.
As palace and court intrigue, Ooku has a knife for every back and a sharp tongue always in reserve. As historical fiction, however, Ōoku: The Inner Chambers Volume 8 is enchanting and, as is the case this time, relevant. Issues of class, taxation, recession, food riots, and the concentration of money in the hands of a relatively small group of people give this current volume even more of an edge than it already has. As subjects for the narrative, money, commerce, and foreign trade become more reasons to pay extra attention to this series. I will say that the notion of gender roles, which is often central to this narrative, is not as strong a theme in this volume as it is in others.
POSSIBLE AUDIENCE: Readers looking for excellent character and historical drama will find it in Ōoku: The Inner Chambers.
Rating: A+ /10
Last Updated: May 19, 2020 - 12:25