My Hero Academia: Volume 9 manga review
By Leroy Douresseaux
November 13, 2017 - 23:08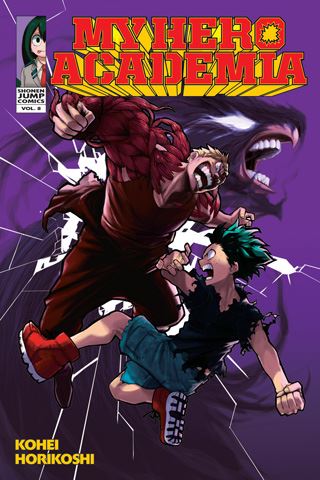 My Hero Academia Volume 9 cover image
Rated "T" for "Teen"
Eighty percent of the human population has manifested superpowers called "
Quirks
." If someone wants to be a superhero, he or she enrolls in the Hero Academy. What would a person do, however, if he were one of the 20% born Quirkless? Middle school student
Izuku Midoriya
has no chance of ever getting into the prestigious
U.A. High School
for budding heroes. Then, Midoriya meets the greatest hero of them all, All Might, who gives him a chance to change his destiny…
My Hero Academia

, Vol. 9
(
My Hero
; Chapters 72 to 80) opens on "Day Two" of the summer camp for students of U.A. This is not, however, an ordinary summer camp or vacation. Summer activities will involve high-impact training in which students are expected to develop their Quirks even further. However, the
Vanguard Action Service
, a unit of the League of Villains, launch an attack on the students with the goal of kidnapping one U.A. student in particular.
THE LOWDOWN:
The My Hero Academia manga is one of the best comics about youngsters dealing with superpowers that I have ever read. As I written before, the English adaptation by Caleb Cook of this narrative (which is a Japanese original) focuses in on both how self-assured teens can be and also on how doubt can plague them in this time of physical and mental development.
My Hero Academia Volume 9
is a battle manga volume, although it opens with scenes of students in training. Most of the volume is a series of running battles, and the battle of main focus depicts the grit and determination of Midoriya. This lead character is on the way to becoming a true superhero in the American comic book tradition, and that is worth following.
I READS YOU RECOMMENDS:
Fans of superhero comics and of shonen battle manga will want to enroll at the Shonen Jump school,
My Hero Academia
.
A
8 out of 10
Rating: 8 /10
Last Updated: May 19, 2020 - 12:25