My Hero Academia: Volume 8
By Leroy Douresseaux
May 22, 2017 - 16:12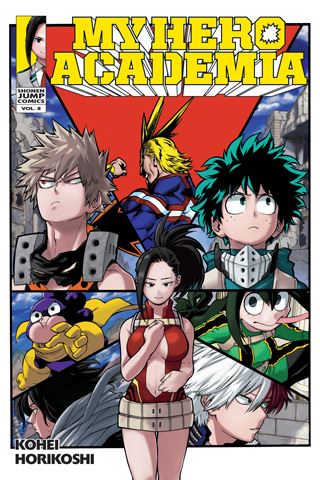 My Hero Academia Volume 8 cover image
Rated "T" for "Teen"
In this world, 80% of the human population has manifested superpowers called "
Quirks
." If someone wants to be a superhero, he or she enrolls in the Hero Academy. What would a person do, however, if he were one of the 20% born Quirkless? Middle school student
Izuku Midoriya
has no chance of ever getting into the prestigious
U.A. High School
for budding heroes. Then, Midoriya meets the greatest hero of them all,
All Might
, who gives him a chance to change his destiny…
As
My Hero Academia

, Vol. 8
(
Yaoyoroozu Rising
; Chapters 63 to 71) opens, the students of U.A. have reached the practical portion of their final exams. That means they have to beat their teachers in order to pass! Next, Midoriya has a shocking encounter with
Tomura Shigaraki
, a villain jealous of another more infamous villain.
[This volume includes bonus manga in the form of a "side story."]
THE LOWDOWN:
I call the My Hero Academia manga one of the best comics about youngsters dealing with superpowers. Caleb Cook's English adaptation script really focuses in on the teen self-assured and doubt and the ambition and resignation of teens under stress.
My Hero Academia Volume 8
focuses on training and testing. This volume does not give much space to the larger conspiracy that exists outside the school, but is also simultaneously connected to it. What it does give about the villains is quite a nice tease, and I wish there was more of that. I must also say that Vol. 8 seems more like a manga than it does a superhero comic book.
I READS YOU RECOMMENDS:
Fans of superhero comics and shonen battle manga will want to enroll at the Shonen Jump school,
My Hero Academia
.
B+
Rating: B+ /10
Support this writer on Patreon
Last Updated: Jun 26, 2018 - 9:28