My Hero Academia: Volume 5 manga review
By Leroy Douresseaux
Aug 11, 2016 - 14:01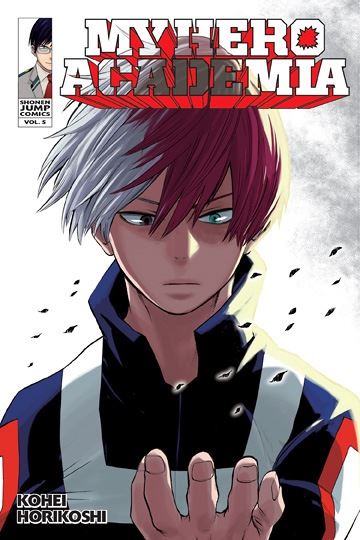 My Hero Academia Volume 5 cover image
Rated "T" for "Teen"
Eighty percent of the human population has manifested superpowers called "
Quirks
." If someone wants to be a superhero, he or she enrolls in the
Hero Academy
. What would a person do, however, if he were one of the 20 percent born Quirkless? Middle school student
Izuku Midoriya
has no chance of ever getting into the prestigious
U.A. High School
for budding heroes. Then, Midoriya meets the greatest hero of them all,
All Might
, who gives him a chance to change his destiny…
As
My Hero Academia

, Vol. 5
(entitled
Shoto Todoroki
: Origin; Chapters 36 to 44) opens, the final rounds of the
U.A. Sports Festival
take center stage. Now, Midoriya must face
Shoto Todoroki
, the son of the
Enji Todoroki
a.k.a. "
Endeavor
," the second most powerful superhero. Shoto can generate huge sheets of ice in various forms, but he has also inherited his father's power, the fearsome flame. So why won't he use it? We get the origin story of Shoto Todoroki?
[This volume includes the bonus manga, "The Summer Hope."]
THE LOWDOWN:
The
My Hero Academia
manga is one of the best comics about youngsters dealing with superpowers. It is one of the best superhero comics available to English readers today, even if it is a Japanese original.
Caleb Cook
's English adaptation script, however, makes
My Hero Academia
as good as some of the best-written American superhero comic books, especially those for young readers (such as Marvel Comics' titles,
Ms. Marvel
and Moon Girl and
Devil Dinosaur
).
My Hero Academia Volume 5
is action-packed with superhero battles, but the story is not without drama. The story of Shoto Todoroki's past and his edgy relationship with his father isn't just teen melodrama.
My Hero Academia
wants to be more than just a fight comic and it is proving that with each volume.
POSSIBLE AUDIENCE:
Fans of superhero comics and shonen battle manga will want to enroll at the Shonen Jump school,
My Hero Academia
.
A
Rating: A /10
Support this writer on Patreon
Last Updated: Jun 26, 2018 - 9:28