My Hero Academia: Volume 3 manga review
By Leroy Douresseaux
February 19, 2016 - 23:46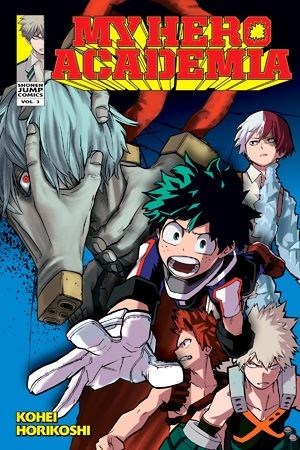 My Hero Academia Volume 3 cover image
Rated "T" for "Teen"

Eighty percent of the population has manifested superpowers called "
Quirks
." If someone wants to be a superhero, he or she enrolls in the Hero Academy, but what would a person do if he or she were one of the 20 percent who were born Quirkless? Middle school student
Izuku Midoriya
has no chance of ever getting into the prestigious
U.A. High School
for budding heroes. Then, Midoriya meets the greatest hero of them all,
All Might
, who gives him a chance to change his destiny…
As
My Hero Academia

, Vol. 3
(entitled
All Might
; Chapters 18 to 26) opens,
Class 1-A
continues to battle the powerful
League of Villains
. They hold their own, but they are no match for the leader of the attack,
Tomura Shigaraki
, and the monstrous
Nomu
. All Might arrives to save the day, but with his powers in a state of flux, he may need help.
Later,
Detective Naomasa Tsukauchi
arrives at U.A. to investigate the attack, but school life goes on. It's time for the annual
U.A. Sports Festival
, and all the students have to participate in the event that has replaced the Olympics in Japan. Now, All Might believes it is also time for Midoriya to rise.
THE LOWDOWN:
Next to Marvel Comics'
Ms. Marvel
, the
My Hero Academia
manga is the best comic about youngsters dealing with superpowers. It is better than any
New Mutants
or
New X-Men
comic book has been in years. Like
Tiger & Bunny
and
One-Punch Man
,
My Hero Academia
proves that manga can do superhero comic books with the best of them.
My Hero Academia Volume 3
mostly focuses on school activities, after tying up the second half of the "villains attack" story line that opens the volume. Creator
Kohei Horikoshi
offers a peek at the dark conspiracy that threatens U.A. High School and its students and teachers. However, it isn't all fight comics and intrigue. The sports festival offers Horikoshi a chance to show readers his young characters' powers and personalities, so it's academic, of course. My Hero Academia is a real superhero comic book that is really good.
POSSIBLE AUDIENCE:
Fans of superhero comics and shonen battle manga will want to enroll at
My Hero Academia
.
A
Last Updated: January 24, 2022 - 11:00