My Hero Academia: Volume 2 manga review
By Leroy Douresseaux
November 7, 2015 - 14:42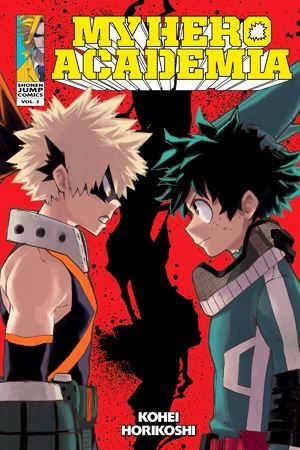 My Hero Academia Volume 2 cover image
Rated "T" for "Teen"
In the world of
My Hero Academia
, 80 percent of the population has superpowers called "
Quirks
." If you want to be a superhero, you enroll in the Hero Academy. What would you do, however, if you were one of the 20 percent who were born Quirkless? Middle school student
Izuku Midoriya
wants to be a hero more than anything, but has no chance of ever getting into the prestigious
U.A. High School
for budding heroes. Then, Midoriya meets the greatest hero of them all,
All Might
, who gives him a chance to change his destiny…
As
My Hero Academia

, Vol. 2
(entitled
Rage, You Damned Nerd
; Chapters 8 to 17) opens, Midoriya is about to enter U.A. High School. The 15-year-old has powers because All Might shared his abilities with him. His mother is ever at the ready, even fashioning a superhero uniform for her boy.
The first day of school means an immediate course in battle training. Is Midoriya ready? He better be. One of his opponents is a childhood friend/rival. Plus, the villains arrive!
THE LOWDOWN:
As a longtime fan of superhero comic books, I am delighted to read the
My Hero Academia
manga (thanks to a review copy from my VIZ Media rep). Like
Tiger & Bunny
and
One-Punch Man
,
My Hero Academia
proves that manga can do superhero comic books that are every bit as imaginative as American superhero comics (if not more).
My Hero Academia Volume 2
finds our young hero Izuku Midoriya being thrown into the fire of serious field training. Series creator
Kohei Horikoshi
shows that in superhero school, classroom study takes place on the field of battle, where saving lives is every bit as important as battling bad guys.
My Hero Academia
has a comic side, but the series' humor does not come from mocking the superhero genre. Horikoshi takes seriously the idea of being a hero – personal sacrifice to help others, and youngsters trying to learn that makes for good comedy and drama.
POSSIBLE AUDIENCE:
Fans of superhero comics and shonen battle manga will want to enroll at
My Hero Academia
.
Last Updated: September 6, 2021 - 08:15