Muhyo & Roji's Bureau of Supernatural Investigation: Volume 1
By Leroy Douresseaux
September 19, 2007 - 14:09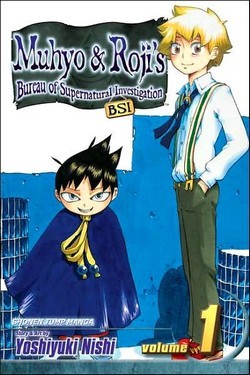 Thanks to barnesandnoble.com for the image.
Upon first glance of the cover,
Muhyo & Roji's Bureau of Supernatural Investigation

, Vol. 1
doesn't look promising. Judging from the images, the series seems as if it's going to be silly and likely bad, although we can hope… Of course, don't judge a book by its cover. The first few pages tell the truth – Muhyo & Roji's BSI is actually quite good.
The series revolves around two characters. First is Toru Muhyo, a specialist in supernatural law. In fact, Muhyo has achieved the highest rank in magic law, executor – someone who can perform exorcisms. Why does supernatural/magic law exists? It was founded to combat the rising supernatural crime rate in Japan, which are crimes that include everything from possessions and hauntings to parasitic behavior and assaults. The second character is Muhyo's sidekick/assistant, the sweet-natured and accident prone, Jiro Kusano, who calls himself "Roji," which he says is his name spelled backwards.
In their first set of adventures, a high school girl, haunted by the ghost of a friend whose death she blames on herself, turns to Muhyo & Roji for help, and that leads to a fantastically frightening showdown at a train station. A widow turns to the dynamic duo when a haunting causes students to abandon her boarding school. A brash young boy with a doubting Thomas attitude discovers that he needs Muhyo & Roji when a blood-thirsty ghost wants to turn him into an entrée.
THE LOWDOWN: Many have tried, and many have failed (to one extent or another) when it comes to creating comic horror. Manga-ka Yoshiyuki Nishi gets it right. Muhyo & Roji's BSI is both funny and scary. Nishi's leads are such an endearing odd couple, and he builds the comedy from their differences. Roji is the diplomatic Watson to Muhyo's arrogant Holmes. The duo forms a Laurel and Hardy relationship with shades of Ice Cube and Mike Epps in All About the Benjamins.
Nishi hits the horror notes perfectly with his well drawn art. While he captures the humorous side of his concept with the comical designs of his star pair, he's even better at designing ghosts and supernatural creatures. From the first panel when a supernatural creature makes its presence known, the book's heart-stopping and creepy factor hits the roof. This is J-Horror in the vein of Ringu, but there's lots of comedy. A strange mix, but a darn good one.
POSSIBLE AUDIENCE: Muhyo & Roji's BSI is part of VIZ Media's "Shonen Jump" line of boys' manga, but just about any manga reader can appreciate a superbly crafted book which is very successful at what it does, in this case, genuine comedy and real scares.
A
Shop for the BSI at the Amazon aStore.
Last Updated: September 6, 2021 - 08:15