Muhyo & Roji's Bureau of Supernatural Investigation: Volume 2
By Leroy Douresseaux
November 13, 2007 - 14:23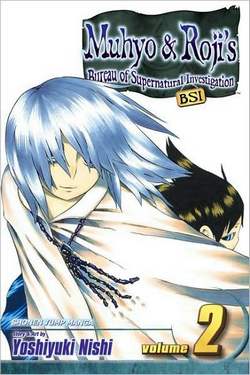 Thanks to barnesandnoble.com for the images.
MUHYO & ROJI'S BUREAU OF SUPERNATURAL INVESTIGATION, VOL. 2
VIZ MEDIA
CARTOONIST: Yoshiyuki Nishi
TRANSLATION & ADAPTATION: Alexander O. Smith
ISBN: 978-1-4215-1377-5; paperback; Rated "T" for "Teen"
207 pp., B&W, $7.99
Muhyo & Roji's Bureau of Supernatural Investigation, by Yoshiyuki Nishi, revolves around two characters: Toru Muhyo, a specialist in supernatural law, and Jiro "Roji" Kusano, Muhyo's sweet-natured sidekick/assistant. Muhyo has achieved the highest rank in magic law, executor – someone who can perform exorcisms, and performs his job out of his agency, Muhyo Bureau of Supernatural Investigation. Supernatural law exists to combat Japan's rising supernatural crime rate, which includes everything from possessions and hauntings to parasitic behavior and assaults.
In Muhyo & Roji's Bureau of Supernatural Investigation, Vol. 2, a young photographer named Nana reluctant seeks help when she discovers all her photographs contain a pair of ghostly hands hovering near or on her subjects, even when she is the subject. Soon, Muhyo and Roji find themselves with a partner as Nana begins to hang around the office. Nana follows the duo through the portal to the Magic Law Association where Roji will take his promotion exam. However, Enchu, Muhyo's mysterious rival, launches his darkest attack yet on the Association. Will Roji be up to the task of helping his boss?
THE LOWDOWN: Vol. 1 was a highly successful mixture of frights and laughs, but Vol. 2 is darker in tone. It's a dark fantasy/thriller with elements of comedy, rather than being straight comic horror. The light-heartedness has taken a backseat to danger in this suite of tales about grudge-holding ghosts. The suspense and thrills are certified gooseflesh-raising chills, and Nishi cartoons ghosts that are as terrifying as what most Hollywood FX houses can conjure.
POSSIBLE AUDIENCE: Muhyo & Roji's BSI is part of VIZ Media's "Shonen Jump" line of boys' manga, but because it mixes elements of the film, Ghost Busters (1984), and Harry Potter books, mainly the Potter/Voldemort feud, it should appeal to a broad group of young comic book readers.
A
Shop VIZ at the Amazon aStore.
Last Updated: September 6, 2021 - 08:15