Muhyo & Roji's Bureau of Supernatural Investigation: Volume 4
By Leroy Douresseaux
April 6, 2008 - 19:46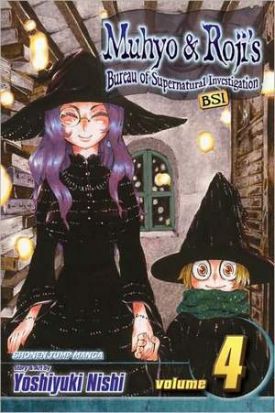 Thanks to barnesandnoble.com for the image.
Muhyo and Roji's are specialists in magic law.
Toru Muhyo
has achieved the highest rank in magic law, executor – someone who can perform exorcisms.
Jiro "Roji" Kusano
is Muhyo's sweet-natured and accident prone assistant/sidekick. Need a ghost busted or evil spirit exorcised? Muhyo & Roji's Bureau of Supernatural Investigation will do it.
Muhyo & Roji's Bureau of Supernatural Investigation, Vol. 4 picks up in the midst of Muhyo and Roji's mission to Arcanum, a prison that holds evil spirits. Joined by two of Muhyo's former classmates, Yoichi Himukai and Yu "Biko" Abiko, and Biko's teacher, Rio Kurotori, the BSI duo are searching for the murderous ghost, Face-Ripper Sophie, who hides in the body of someone at the prison. Worse still, a horrible betrayal is revealed.
THE LOWDOWN: The cutesy characters drawn by creator Yoshiyuki Nishi belie this series' surprisingly dark storylines, which are all filled with ruthless villains, creepy settings, and cold justice. It's no less clever and inventive than DC Comics' long running Hellblazer, just more accessible to younger audiences.
POSSIBLE AUDIENCE: A mixture of horror and fantasy with elements of Ghost Busters, Harry Potter, and Hellblazer, Muhyo & Roji's BSI is a treat for fans of imaginative scary stories.
A
Last Updated: September 6, 2021 - 08:15