Vampirella: The Second Coming #4 (of 4)
By Andy Frisk
April 8, 2010 - 10:56
Harris Comics
Writer(s): Phil Hester
Penciller(s): Al Rio
Inker(s): Al Rio
Colourist(s): Romulo Fajardo, Jr.
Letterer(s): Ed Dukeshire
$1.99 US
The demon leader, Lord Gore, makes the final preparations for the opening of his gateway to Hell while the resurrected Vampi and her army battle to prevent the literal unleashing of Hell on Earth. Will she have to sacrifice herself yet again though in order to save the world?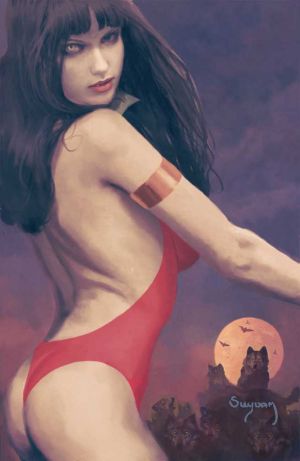 Phil Hester wraps up his intelligent and action packed tale of Vampirella's return which took the novel approach of playing with the legend of Vampirella in a smart meta-fictional way. Vampirella: The Second Coming reads like a sort of farewell to the classic incarnation of the Vampirella character. This ended up being fitting in retrospect, and in a very real way metaphorically and literally, as Vampirella: The Second Coming would be the last Vampirella tale from Harris Comics. With the sale of the Vampirella character to Dynamite Entertainment, Harris Comics relinquished control of what is perhaps the most recognizable female vampire character ever created. After decades of residency at Harris Comics, where Vampi was written about by several industry legends such as Warren Ellis, Grant Morrison, Mark Millar, and Alan Moore, Vampi takes up residency at Dynamite Entertainment, a fitting new home for her as Dynamite has revamped (pardon the pun) and reinvigorated several characters such as The Lone Ranger, Zorro, Red Sonja, and The Green Hornet recently. Needless to say, Vampi's future looks quite bright, and this Vampi fan cannot wait to see her reincarnated in the hands of the good folks at Dynamite. (Maybe while they're reincarnating a classic, they can reinvent or at least continue the story of one of their own, Athena, who has so much potential—at least in the stories I've written for her in my mind…).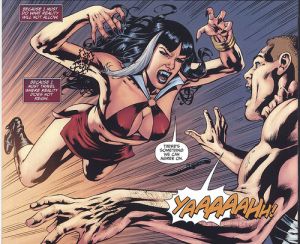 Before getting ahead of ourselves though, Vampi's last miniseries with Harris Comics was one that has the potential to stand the test of time and become a classic Vampirella tale. Not only was it packed with female empowerment themes (like many contemporary Vampi tales have been) its use of a mix of meta-fiction and fantasy to concoct a storyline that takes a look at Vampirella as a real life pop cultural phenomenon and a fictional character was a pretty smart and fitting way to usher in her "second coming." Coupled with Al Rio's solid artwork (he nails the ideal female form—or at least what can be called the "hottie" female form), Vampirella: The Second Coming demonstrated the huge potential Vampi contains as a storytelling vehicle. The creators of Vampi's new exploits over at Dynamite would be wise to follow Hester's lead in crafting intelligent as well as action packed stories for Vampi. (Oh yeah, and don't skimp on the amount of hot chicks in skimpy outfits—this is Vampirella and company we're talking about here!)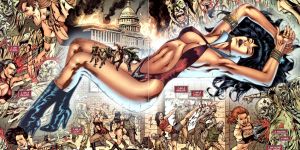 There's a new dawn on the horizon for Vampirella. Dynamite Entertainment should prove a fitting home for the world's most sexy and recognizable comic book vampire. Vampirella: The Second Coming though tops off a great run for the character at Harris Comics with style. Check it out before Vampi's new Dynamite incarnation bursts onto the scene. You won't regret it.

Rating: 8.5/10
Related Articles:
Vampirella: Southern Gothic #1 Review
Vampirella Strikes #2 Advanced Review
Vampirella Stages a Comeback for July 2012
Vampirella face to face with Dracula!
Vampirella #1
"Vampirella" #1 Exclusive Variant Covers from Midtown Comics and Dynamite
Vampirella: Masters Series Vol. 1
Dynamite Presents A First Look At Vampirella #1
Vampirella collections haunt late 2010!
Vampirella: The Second Coming #4 (of 4)