RED SONJA TO ARRIVE 4.27.05!
By The Editor
April 21, 2005 - 18:58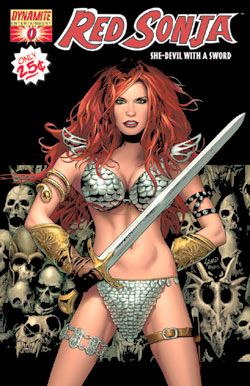 RED SONJA #0
Just in time for Free Comic Book Day, Dynamite Entertainment has announced that the introductory issue of their Red Sonja ongoing series -- Red Sonja #0 a special 16 pages of original story and art available for a quarter - will be in comic book shops this coming Wednesday, April 27, 2005.
"Well, break out the chain mail and sharpen your swords because we are declaring the 27th to be "She-Devil With a Sword Day" at comic shops around the county," proclaimed Dynamite Spokesperson J. Allen. "We're relieved the big day is finally upon us and we even managed to cook up a few surprises for this special introductory issue! On to #1!"
Written by two of the best writers working in comics today - Michael (Thor) Avon Oeming and Mike (Ultimate Elektra, Lucifer, Neil Gaiman's Neverwhere) Carey and illustrated by up and coming superstar Mel Rubi, Red Sonja #0 also features two great colorists completing Sonja's world - Richard (Origin) Isanove with Caesar (Sojourn) Rodriguez!
In issue #0, Sonja's enters a town with no name and a Red Storm enters with her!
Red Sonja #0, the top ordered item in February Previews for April shipping, will now ship with two covers. Both covers feature the beautiful Greg Land artwork, with one cover featuring a black background and the other cover featuring a white background. Regarding the two cover, Dynamite Entertainment acknowledges and is incredibly grateful for retailers support of this new project and wanted to help them by giving them two ways to sell and display the introductory zero issue.
Fans and Retailer should note that all retailers' orders have been split across two newly created cover codes. Issue #0 will be shipping with two covers along with the incentive covers - featuring RRP Editions by (Rare Retailer Premium) Greg Land cover and the "Sneak Peak" Alex Ross high end cover - and Reorder copies will also be made available under these two codes: FEB058469 E RED SONJA CVR A #0 and FEB058470 E RED SONJA CVR B #0. The issue is sold out from Dynamite Entertainment, but it is our understanding that a few copies may be left at the distribution level.
"I think the creative team is superb and besides that, Red Sonja is one of my favorite characters ever! I also think that the timing for the #0 issue is great-I'm going to order a bunch of extra copies for free comic book day!"
-- Jimmy Hayes
Graham Cracker Comics, IL
"Conan is Hot! Red Sonja will be hotter! Especially with the team Dynamite has on the book. And the cover artists, unbelievable! It's icing on the cake. At only a quarter each, I'll give it out to all of our customers.
-- Loop
Stormwatch Comics, NJ
Last Updated: May 19, 2020 - 12:25