Maid Sama: Volume 1
By Leroy Douresseaux
May 14, 2009 - 14:02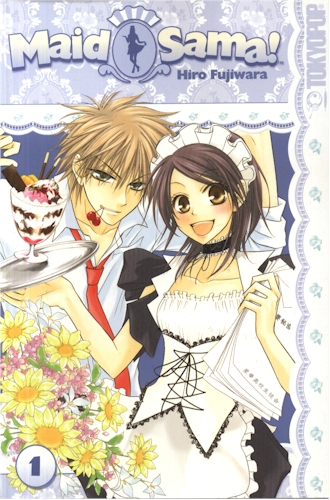 Maid Sama Volume 1 cover image is courtesy of Anime Castle Books.
Comedy/Romance; Rated "T" for "Teen-Age 13+"
Misaki Ayuzawa is President of the Student Council at Seika High School. Formerly an all-boys academy, the school is now 20% percent female, and Misaki is determined to clean up the boys' bad habits in order to attract more prospective girl students. Misaki, an overachieving feminist, is also something of a man-hater, because her father abandoned her family. In order to help her family's finances, Misaki works part time at Maid Latte, a maid café where the maids address customers as "Master!" Now, Takumi Usui, the hottest boy in school, knows about Misaki's job, something she wishes to keep secret. Will he keep that secret to himself or use it for his benefit?
In Maid Sama, Vol. 1, Misaki attempts to micromanage all the Student Council activities, including its planning for the school festival, but she catches a cold and heads for disaster. Next, when Misaki takes for granted that she can protect herself against attackers, Takumi decides to teach her a lesson. Finally, a group of male students devotes themselves to Misaki, which may lead to them learning about Maid Latte, so will Takumi come to her rescue again? If he does, how much will it cost Misaki?
THE LOWDOWN: A successful shojo manga (comics for teen girls) needs a quality romantic duo – usually a girl with a romantic heart and a handsome, raffish boy. These two don't have to be great characters, but they need to be charming and not shallow. Misaki Ayuzawa is plucky and engaging, the kind of resourceful, do-her-own-thing girl that is a staple of authors who want female characters that project strength. On the other hand, Takumi Usui is shallow. He's really a supporting character that acts like a co-lead character, but the manga-ka, Hiro Fujiwara, simply uses him as convenient plot trick mostly to rescue Misaki out of tight jams.
That's not to say that Fujiwara presents Misaki as someone who can't fend for herself. Perhaps, having Takumi rescue her is just an easy way of putting the characters together to allow them to have a romantic moment. Ultimately, that's Maid Sama's main failing; the creator takes the easy road by producing shojo manga that is standard material. It has the potential to be very good, if not great. The quality, pretty artwork is in service of some amusing episodic comedy – both romantic and high school. Fujiwara may not have to improve Misaki much; however, for Maid Sama to stand out, Takumi is going to have to be more than just another sly teen boy.
POSSIBLE AUDIENCE: Hardcore fans of shojo high school romance may want to give Maid Sama a try.
B-
Last Updated: August 31, 2023 - 08:12