Maid Sama!: Volume 3
By Leroy Douresseaux
March 26, 2010 - 11:43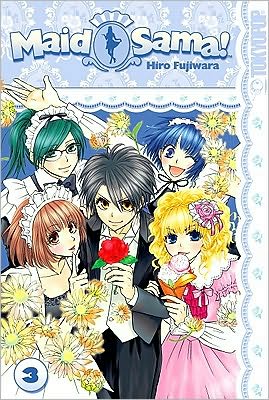 Maid Sama! Volume 3 cover image is courtesy of barnesandnoble.com.
Comedy/Romance; Rated "T" for "Teen-Age 13+"
Seika High School was formerly an all-boys academy, but the school is now 20% percent female. Misaki Ayuzawa, an overachieving feminist, is President of the Student Council and is also determined to clean up the boys' bad habits so that the school can attract more prospective girl students. In order to help her family's finances, Misaki also works part time at Maid Latte, a maid café where the maids address customers as "Master!" Takumi Usui, the hottest boy in school, knows about Misaki's job, and while he keeps her secret, he also uses that secret for his benefit?
As Maid Sama!, Vol. 3 opens, the Seika High School sports festival continues with a surprising closing event – a costume contest, one that may reveal Misaki's secret life as a maid. Also, Satsuki, the manager of Maid Latte, has a problem, and her problem is also her employees' problem. Her bratty niece, Aoi Hyoudou, has arrived in all her frilly-laced glory, and she has her eye on Takumi. But what is she going to do with the girl she believes is standing in her way, Misaki!
THE LOWDOWN: Because it has two primary settings, Seika High and Maid Latte, Maid Sama! can diversify its plots. It is both a workplace comedy and a high school romantic comedy, but it isn't just any workplace comedy/high school shojo manga. All the characters are so conniving that even if the reader likes them, she has to be suspicious of their motivations. The shifting motivations, however, give Maid Sama! an amusing edge. You can almost forget the gimmick of a girl working at a maid café and just relax and enjoy this splendid character comedy.
POSSIBLE AUDIENCE: Fans who enjoy shojo high school romance that mixes a little shonen edge will enjoy Maid Sama!
B+
Last Updated: August 31, 2023 - 08:12