Maid Sama! Volume 4
By Leroy Douresseaux
April 16, 2010 - 08:19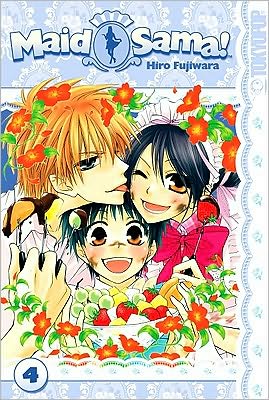 Maid Sama! Volume 4 cover image is courtesy of barnesandnoble.com.
Comedy/Romance; Rated "T" for "Teen-Age 13+"
The formerly all-boy academy, Seika High School, is now 20% percent female. Misaki "Misa" Ayuzawa, an overachieving feminist and President of the Student Council, is determined to clean up the boys' bad habits so that the school can attract more prospective girl students. In order to help her family's finances, however, Misaki also works part time at Maid Latte, a maid café where the maids address customers as "Master!" Takumi Usui, the hottest boy in school, knows about Misaki's job and keeps her secret for his benefit?
As Maid Sama!, Vol. 4 opens, girl-hating Soutarou Kanou has hypnotized Misa. The next time she falls asleep, Misa will awaken and hate Usui more than usual. Now, Usui is trying everything to keep her awake. Next, Satsuki, the manager of Maid Latte, sends her staff on a vacation to "Beach House," an ocean-view inn managed by her younger sister, Nagisa. The inn is in trouble, so the kids recreate Maid Latte on the beach. Will it attract more customers to Beach House or just annoy Misa because she has to wear a maid uniform while on vacation?
THE LOWDOWN: High schools and teenagers like the ones in Maid Sama! only exist in fictional worlds like High School Musical, where bullying is merely a teachable moment and teasing is gentle. Eccentric and odd behavior doesn't earn one the label "gay" or "fag." Diversity is a cool thing, and there is a place for everyone. Students don't commit suicide to escape bullying and school trips don't turn into opportunities for debauchery, which sometimes leads to a missing white girl (Hello, Natalie Holloway!). Read Maid Sama! because it's about the cool high school many of us wish we had.
POSSIBLE AUDIENCE: Readers looking for a high school shojo will find a good one in Maid Sama!
B+
Last Updated: August 31, 2023 - 08:12