Comics / Comic Reviews / More Comics
Dungeons & Dragons: Legends of Baldur's Gate #1 Advanced comics review

By Leroy Douresseaux
October 21, 2014 - 12:18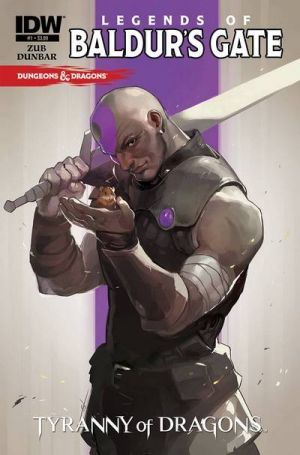 Dungeons & Dragons Legends of Baldur's Gate #1 cover image
Follow me on
Twitter
.
Dungeons & Dragons Legends of Baldur's Gate
is the latest licensed
Dungeons & Dragons
(D&D) comic book from IDW Publishing. This new comic book series is written by
Jim Zub
and drawn by
Max Dunbar
with colors by
John-Paul Bove
and letters by
Neil Uyetake
.
Apparently,
Baldur's Gate
is a fictional city in the Forgotten Realms campaign setting of the D&D fantasy role-playing game (RPG). I say "apparently" because it has been decades since I have read a D&D comic book or even played the game.
Baldur's Gate is located in the Faerûn region and is a coastal city on the north bank of the river Chiontar. It is "a place of history and a home to legends."
Dungeons & Dragons Legends of Baldur's Gate

#1
("Part One") opens in the
Upper City
where a young female moon elf,
Delina the Wild Mage
, is on the run from two flying, stone gargoyles.
Her magic is not enough to stop them, but
Minsc
, a tall, imposing figure of a man, comes to her rescue. He has a pet,
Boo the hamster
, and insists on calling Delina by the name, "
Neera
." She will accept the hamster and the new name, if Minsc can help her find her missing brother.
THE LOWDOWN:
Simply put,
Dungeons & Dragons Legends of Baldur's Gate
#1 is the kickoff of a comic book adventure series. Specifically, it is a comic book narrative structured as if it were a D&D campaign. Writer Jim Zub grew up on D&D, as he writes in a "Welcome" essay at the end of this first issue, so the series may reflect what Zub loves about D&D.
Legends of Baldur's Gate
#1 is not a great comic book, but it does have an intriguing premise. And I have to be honest; I think I will always be interested in the idea of a D&D campaign. In this first issue, the story is straightforward, so artist Max Dunbar is not required to convey any complex storytelling. It is good enough and acceptable for Dunbar to draw big panels and splash pages because this story is three things: vague introductions of characters, fights, and chase scenes, which are big panel-ready story elements.
I want to try the next one or two issues in order to see where this goes. Right now, I'll give it a grade of "B."
POSSIBLE AUDIENCE:
Readers of D&D comic books will want to try
Dungeons & Dragons Legends of Baldur's Gate
.
www.IDWPublishing.com
DungeonsandDragons.com
Rating: B /10
Last Updated: February 5, 2023 - 09:06