New "DUNGEONS & DRAGONS" Series Getting Lowder
By The Editor
January 11, 2008 - 05:01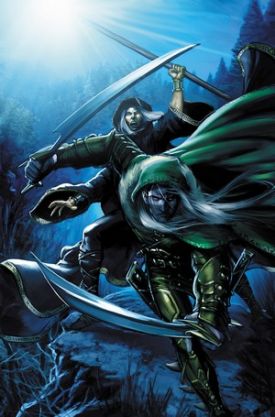 Cover A
D&D® legend editing new ongoing 'Worlds of Dungeons & Dragons™' series for Devil's Due Publishing
Bestselling author and award-winning editor James Lowder (Prince of Lies, Knight of the Black Rose) applies his talents to a new ongoing comic book series this February in Devil's Due's Worlds of Dungeons & Dragons. Lowder will oversee adaptations of the works of such legendary storytellers as R.A. Salvatore, Margaret Weis, and Tracy Hickman, which will pack the giant 48-page monthly comic.
"Each issue of Worlds of Dungeons & Dragons will feature two stories from Wizards of the Coast's bestselling fantasy settings, including the Forgotten Realms, Dragonlance, Ravenloft, and Eberron," Lowder said. Issues 1 and 2 will adapt R.A. Salvatore's "Dark Mirror," starring the Forgotten Realms' most famous drow, Drizzt Do'Urden, with a script by Nick Schley (Abiding Perdition, "Red Lotus") and art by Rafael Kayanan (Conan, Star Wars, Spider-Man), and Margaret Weis and Tracy Hickman's "The Legacy," featuring the world of Krynn's most infamous wizard, Raistlin Majere, with a script by Neil Kleid (Brownsville, Ninety Candles, X-Men Unlimited), and art by Javier Sanchez Aranda (Hellina).
"Future issues of Worlds of Dungeons & Dragons will feature a wide array of iconic characters, including the arch-wizard Elminster, the vampire Strahd von Zarovich, and the death knight Lord Soth," according to Lowder. "Writers will include authors familiar to comics readers, as well as fans of fantasy fiction and role-playing games: Jeff Grubb, Ed Greenwood, Richard Knaak, Elaine Cunningham, P.N. Elrod, Monte Cook, Keith Baker, and Stan Brown, many of them scripting the adaptations of their own short stories."
Devil's Due tapped Lowder, whose background includes time directing the Forgotten Realms® and Ravenloft® book lines for TSR, Inc., and comics scripting assignments with DC, Moonstone, and Desperado. Lowder notes, "The worlds and characters featured in the anthology are already fan favorites for millions of readers and gamers around the world, but the stories are also terrific adventure fantasies that are accessible to anyone looking for great sword and sorcery tales."
For more information, please visit www.devilsdue.net.
Or find out more about James Lowder on his website www.jameslowder.com.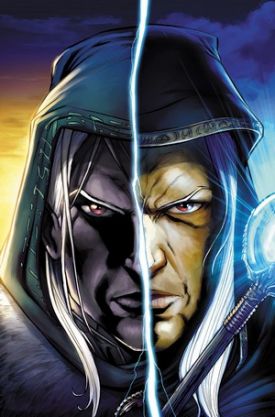 Cover B
Last Updated: February 5, 2023 - 09:06