Comics / Comic Reviews / More Comics
Dungeons & Dragons: Legends of Baldur's Gate #2 comics review
By Leroy Douresseaux
December 5, 2014 - 20:35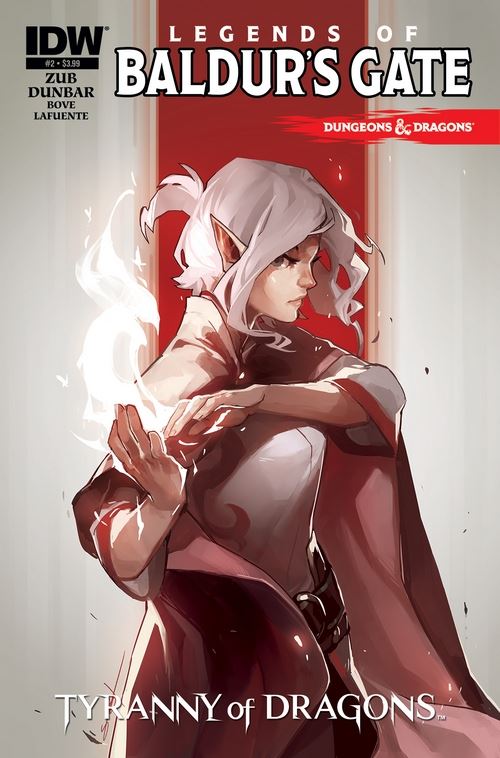 Dungeons & Dragons: Legends of Baldur's Gate #2 cover image
Follow me on
Twitter
.
Dungeons & Dragons Legends of Baldur's Gate
is a
Dungeons & Dragons
(D&D) comic book from IDW Publishing. This new comic book series is written by
Jim Zub
and drawn by
Max Dunbar
with colors by
John-Paul Bove
and
Joana Lafuente
and letters by
Neil Uyetake
.
The series is set in the legendary
Baldur's Gate
(a city in the Forgotten Realms campaign setting of the D&D fantasy role-playing game). In this "place of history and home to legends," we meet a young female elf and wild mage named
Delina
. On the run from stone gargoyles, Delina casts a spell to protect herself. It goes wild and hits the statue of
Minsc
the Beloved Ranger and his hamster,
Boo
. Soon, Delina is on the run with Minsc and Boo.
As
Dungeons & Dragons Legends of Baldur's Gate

#2
("Part Two") opens, Delina learns that the two thieves they just encountered are
Krydle
(a male) and Shandie (a female). They agree to help Delina find her missing twin brother,
Deniak
. However, powerful figures and dark conspirators are also looking for Delina and Minsc, as well as Deniak.
THE LOWDOWN:
While the first issue was a kickoff issue and read as a simple introduction to the series,
Dungeons & Dragons Legends of Baldur's Gate
#2 settles into the heart of the story. A central plot (the search for Deniak) solidifies, and the narrative comes together as writer Jim Zub adds to his colorful band of heroes. I like Delina and company, and I think there will be good times with them. It is obvious that Zub loves the D&D source material, always a good things when adapting a property as a comic book.
Artist Max Dunbar steps forward a little more. His storytelling and compositions are stronger, as if he figured out that this comic book is his sometime while drawing this second issue.
Legends of Baldur's Gate
#2 also offers four pages of conceptual art, designs, and sketches that Dunbar produced for this series, and it is some beautiful work. Speaking of beauty, the colors by John-Paul Bove and Joana Lafuente positively shimmer on some pages.
POSSIBLE AUDIENCE:
Readers of D&D comic books as well as of sword-and-sorcery will want to take a trip to
Dungeons & Dragons Legends of Baldur's Gate
.
www.IDWPublishing.com
DungeonsandDragons.com
Rating: B+ /10
Last Updated: January 24, 2022 - 11:00