Comics / Comic Reviews / More Comics
King Conan: The Hour of the Dragon #2 Advanced comics review
By Leroy Douresseaux
June 24, 2013 - 15:52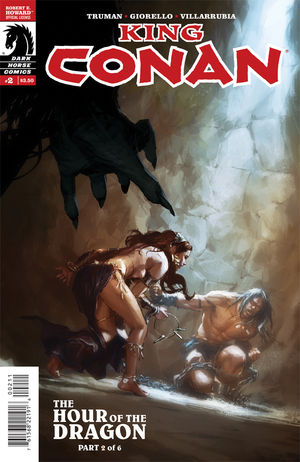 King Conan: The Hour of the Dragon #2 cover image
Adapts the novel by Robert E. Howard
The Hour of the Dragon Part 2 of 6: "The Haunts of Hell"
Author Robert E. Howard's only novel starring his signature character, Conan the Cimmerian, is The Hour of the Dragon (also known as Conan the Conqueror). Dark Horse Comics is currently producing a comic book adaptation of the novel as two six-issue miniseries. The first is King Conan: The Hour of the Dragon, and the second will be entitled King Conan: The Conqueror.
King Conan: The Hour of the Dragon is written by Timothy Truman and drawn by Tomás Giorello, already acclaimed for the Conan comics they have produced together over the last several years. They are joined by their stellar collaborators, José Villarrubia on colors and Richard Starkings & Comicraft on letters.
King Conan: The Hour of the Dragon #2 opens in Tarantia, capital city of the kingdom of Aquilonia. King Conan continues to recount to the young scribe, Pramis, the tale of how he met his wife, the late Queen Zenobia.
The story once again returns to the long-ago, this time the aftermath of the battle at Valkia. With the help of the resurrected sorcerer, Xaltotun, a conspiracy against King Conan was successful in nearly destroying the army of Aquilonia. Now, the victorious army of Nemedia, however, is about to find out that the king is not dead. And Xaltotun does not want him dead.
Weakened by Xaltotun's spells and imprisoned in a foreign land, Conan has lost his kingdom, and he could lose so much more. Now, his only hope may rest in the hands of a mysterious, harem girl named Zenobia.
THE LOWDOWN: I was ecstatic upon hearing that Dark Horse Comics was going to adapt into comics, Robert E. Howard's sword-and-sorcery novel, The Hour of the Dragon, one of my all-time favorite books. After reading King Conan: The Hour of the Dragon #2, my initial excitement about the series is truly justified. This is a great comic book. I wonder if writer Timothy Truman and artist Tomás Giorello can maintain this high level of quality through the remaining four issues.
The word to describe Truman's adaptation of Howard's novel is "meaty." This is masculine, sword-wielding fantasy. No one's contemplating an epic war in which elves, little people, and squabbling human try to retrieve some magical items from the really, really bad guy. This is get-your-hands-dirty fiction.
Yet Tomás Giorello brings the pomp and circumstance of epic fantasy to this story. He makes it as spacious and epic, as it is closed-in, sword to sword. With José Villarrubia's colors, there is an elegant, bejeweled quality to the art that does not take away from the frenzied, masculine sensations in King Conan: The Hour of the Dragon.
POSSIBLE AUDIENCE: Conan fans must have King Conan: The Hour of the Dragon.
Rating: 9 /10
Last Updated: January 24, 2022 - 11:00