Comics / Comic Reviews / More Comics
King Conan: Hour of the Dragon #1 Advanced comics review
By Leroy Douresseaux
May 26, 2013 - 10:33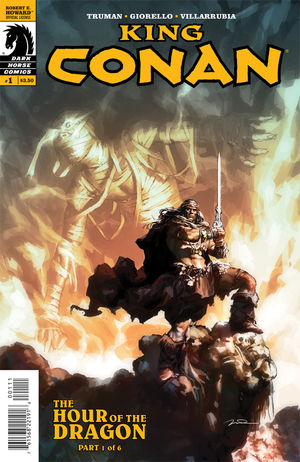 King Conan: Hour of the Dragon #1 cover image
The Hour of the Dragon (also known as Conan the Conqueror) is the only novel featuring Conan the Barbarian (or Cimmerian) written by author Robert E. Howard, Conan's creator. Dark Horse Comics is producing a comic book adaptation of the novel as two six-issue miniseries. The first is King Conan: The Hour of the Dragon, and the second will be entitled King Conan: The Conqueror.
King Conan: The Hour of the Dragon is written by Timothy Truman and drawn by Tomás Giorello, already acclaimed for the Conan comics they have produced over the last several years. They are joined by their stellar collaborators, José Villarrubia on colors and Richard Starkings & Comicraft on letters.
King Conan: The Hour of the Dragon #1 opens in Tarantia, capital city of the kingdom of Aquilonia. King Conan is visiting the burial chambers of his late Queen, Zenobia. It is there that a young scribe, Pramis, meets the king and begins recording the tale King Conan tells him – the story of how he met Zenobia.
The story begins in remote Nemedia, on the eve of the Year of the Dragon. In another crypt, a group of malcontents and conspirators, seeking help to capture the thrones of kingdoms they covet, summon a wizard dead for three thousand. Now, King Conan must face a traitorous alliance backed by the resurrected sorcerer, Xaltotun.
THE LOWDOWN: I was ecstatic upon hearing that Dark Horse Comics was going to adapt into comics, Robert E. Howard's sword-and-sorcery novel, The Hour of the Dragon, one of my all-time favorite books. I think that the novel has only been turned into comics once before, in the early to mid-1970s by Marvel Comics.
I am happy with the resulting first issue of King Conan: The Hour of the Dragon. Tim Truman seems to have absorbed the essence of the novel, while relocating the best of Howard's prose into comics. The novel does have some rough patches, in which the story meanders, so I wonder if this will show over the course of a 12-issue adaptation.
Personally, I'm ready to put Tomás Giorello's name next to the great Conan comic book artists, Barry Windsor-Smith and John Buscema. Giorello's art has the pen and ink texture of book illustration and a graphic style that captures the bizarre sensibilities of pulp fantasy tales. José Villarrubia's colors complete the illusion that the art belongs to a bygone pre-World War II era of fantastic fiction. However, there is no mistaking King Conan: The Hour of the Dragon for a pastiche. This is real-deal Conan.
POSSIBLE AUDIENCE: Conan fans must have King Conan: The Hour of the Dragon.
Rating: 9 /10
Last Updated: January 24, 2022 - 11:00