Comics / Comic Reviews / More Comics
Conan: The Beast King of Abombi and Other Stories
By Geoff Hoppe
July 19, 2007 - 21:32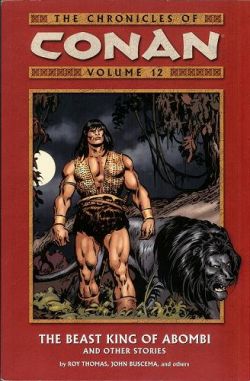 Berkeley the dog in a rare pre-Sesame Street gig.

Ah, the classic Conan. Marvel's original sword-and-sorcery epic. A series that kept Conan's flame burning for several decades. A fantasy comic that broke the mold, and remade it. Endless praise. Critical lavishings. So on, so forth. Hagiography aside, is it any good?

Conan fans genuinely do have reason to be glad at Dark Horse's Conan series. After years of awful adaptations, the boys from Portland assembled a team that put accuracy first. With a few noticeable exceptions (the rape of Janissa the Widowmaker? Please. Grow up already), Dark Horse's Conan has done something rare: they've combined textual accuracy with financial success.

Dark Horse has also acquired the rights to publish the old issues of Marvel Comics' Conan the Barbarian. Marvel's Conan series was a gamble and a phenomenon. With the success of Lancer Publishing's resuscitated (and heavily edited) paperback Conan stories, the House of Ideas saw an opportunity. Conan was popular-- perhaps popular enough to front that rarest of rarities, the non-superhero comic. Marvel Comics gave it a shot, and the series ran for decades.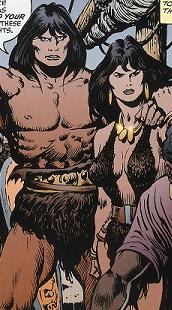 Action hero Slab Squatthrust.

Volume 12 has the poor fortune of drawing on one of Conan's least interesting yarns, Queen of the Black Coast. In that story, Conan meets with a lascivious female pirate named Belit who adopts the Cimmerian as her lover. The two command a frigate of Kushite (African) pirates for a few years before Belit encounters inevitable supporting-female doom.

Queen of the Black Coast is widely regarded as one of Robert Howard's strongest Conan stories (by critics, not by yours truly). That judgment isn't without reason. There are moments in Black Coast where Howard's prose is genuinely impressive. Black Coast contains one of the finest scenes Howard ever wrote, a hallucinatory dream where Conan witnesses the garish sorcery that created the ancient ruins where the story climaxes. The style is stunningly otherworldly, and illustrates Howard's native talent for what his friend H.P. Lovecraft called "weird fiction."

Black Coast is plagued by other weaknesses, though. Belit is an (oftentimes naked) white woman who commands a crew of enthralled black sailors. As the story goes, the Kushite sailors have mistaken her beauty for godhood, a gaffe Belit does nothing to correct. It's a regrettable story element for two reasons.

First, it's patently offensive. The African sailors are objectified with the same casual racism that infected 1930s America. Keep in mind, though, that Howard wrote in, and for, Depression-era America, a time when race relations were radically, and most often tragically, different from what they are today. That doesn't change the fact that the race issue makes Black Coast a lesser story, however.

Secondly, sexuality in Conan stories is both inevitable and inevitably boring. Sex was part of pulp literature. Stories sold because horny teenagers (and some adults) knew the pulps were a source of more-or-less legitimate, borderline erotica. Robert Howard knew this as well as anyone. It's obnoxious, mostly because Howard's love scenes are amateurish counterweights to his well-crafted fantasy and adventure scenes.

Conan: The Beast King of Abombi is a product of the famous team of writer Roy Thomas and artist John Buscema. This paperback collects nine issues of the regular series, including the entire adaptation of Queen of the Black Coast.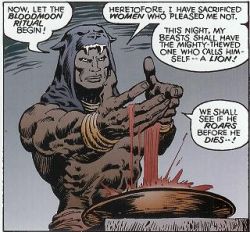 The Beast King loves delicious strawberry quik.

The plots (including the "Beast King" arc) are tame, but Thomas' skill makes the stories entertaining. His competent mimicry of Howard's style lends the comics legitimacy, and he expands on the mythology of Conan's world admirably. While the story that introduces (and bids farewell to) the Beast King isn't top-notch, the Beast King himself is an interesting character that could likely have been written by Howard himself. The elements of myth, prehistory, and communication with animals present in the yarn address Howardian themes, which makes the story yet stronger.

The layout is frustratingly cluttered. The best feature of the Conan stories is the fantastic world Howard created for the Cimmerian. The millennia-old, enigmatic dead cities and lush landscapes of Conan's world are hurriedly portrayed. The focus falls on the people inhabiting the fantastic world, who are rarely as interesting as Conan. The frenetic layout also obscures Buscema's talent. His finest moments are when he's allowed to take up lots of space with large images, like the moving tableaux where Conan lights Belit's pyre.

Worth the money? For fans, yes. Casual readers will do better to check out a Marvel Conan back issue before investing fifteen dollars in a collection.
Last Updated: January 24, 2022 - 11:00