Killer Serials

By Philip Schweier
December 2, 2014 - 10:53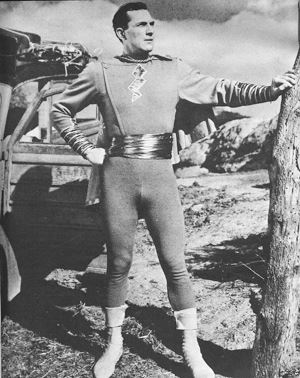 Tom Tyler as Captain Marvel

Over the Thanksgiving weekend, while Mrs. Wife was out pursuing the Black Friday deals, I indulged in a little binge watching of old serials. They aren't her particular cup of hot chocolate, so it's not as if I denied her any enjoyment.

First on the list was the Adventures of Captain Marvel (1941), the very first portrayal of a super-human hero on film. Doing so presented a challenge: How do you put your hero in danger when your hero is pretty much indestructible?

Adventures of Captain Marvel is about as good as it gets when it comes to serials. It's entertaining in the good old-fashioned pulp style of the era in which it was produced. Much of the credit goes to directors John English and William Witney, who were film editors before assuming the director's chair(s). As such, they shoot with an eye toward the final edit.

Another dilemma facing the production was how to depict the super-human abilities. Feats of strength and invulnerability are easy to convey, but flying posed a greater challenge. Special effects technicians rigged up a dummy in costume, maneuvering it along a near-invisible fishing line type of contraption. In other sequences, Tom Tyler, as Captain Marvel, hung suspended in front of a rear-projected sky or other backdrop.

Tyler began his screen career in numerous cowboy films of the 1920s and early '30s. However, the advent of talkies brought with it a new breed of actor. Suddenly looking good on screen wasn't good enough, and Tyler began losing parts to stiffer competition. He continued in smaller roles in such films as Stagecoach (1939) and Gone With the Wind (1939), but soon found himself being featured in serials. However, in the mid-1940s, his health took a sudden downturn. He passed away in 1954 from heart failure.

His co-star in the Adventures of Captain Marvel was Frank Coghlan Jr, who played Captain Marvel's alter ego, Billy Batson. Though 25 years old at the time, he plays much younger, thanks to his higher voice. Coghlan grew up on screen. His earliest screen credit on the IMDB is from when he was only 4 years old, followed by steady work as a successful child star. However, the combination of sound and adolescence proved lethal to his career, leading to smaller parts in lesser productions.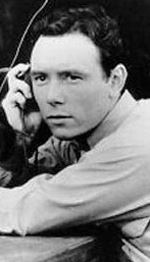 Frank Coghlan Jr. as Billy Batson

Coghlan eventually retired from acting in 1946, but returned for sporadic TV appearances throughout the 1960s. His last guest appearance, perhaps not so ironically, was on the Saturday morning live action program, Shazam, in the mid-1970s. In the '80s, he was featured in a handful of commercial for Curtis Mathes televisions. He passed away in 2009.

In the serial, young Billy Batson accompanies an archaeological expedition to Siam (present-day Thailand) in search of clues to the mystic Scorpion dynasty. They unearth a tomb safeguarded by local tribesmen, who look more Arabian than Siamese. Despite the warnings of tribal leader Rahman Bar (Reed Hadley), the arrogant Americans choose to invade the tomb and explore its secrets – all in the name of science, of course.

Billy chooses not to take part in grave robbing, and instead goes to collect other artifacts at the site. But when a nearby volcano begins to erupt, the roof of the tomb collapses, trapping the expedition inside. Billy is confronted by an ancient wizard, Shazam (Nigel de Brulier), who endows him with the powers of Captain Marvel. As the World's Mightiest Mortal, he rescues the other members of the expedition.

The eruption also uncovers a scorpion idol of immense power. In each of its claws is a lens, and when the lenses are aligned they turn sunlight into a beam of energy capable of changing base metals into gold. To prevent the power of the idol from being abused, each member of the expedition is given a lens.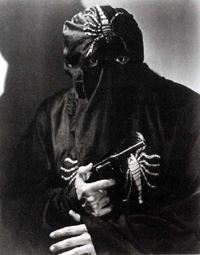 The Scorpion

However, upon their return to the United States, the mysterious Scorpion begins eliminating members of the expedition one by one, so he can have the power of the idol for himself. He is a classic serial villain, prowling around in a hooded robe, sending his henchmen to do his bidding. It later becomes clear that the Scorpion is a member of the expedition.

Leading these forces are Billy and his alter ego, Captain Marvel, and Billy's pal Whitey (William Benedict) and the expedition secretary, Betty Wallace (Louise Currie). Together, they not only foil the plans of the Scorpion, but also provide enough thrills and narrow escapes when someone NOT super-human needs to be threatened.

The script was written by Ronald Davidson, Norman S. Hall, Arch Heath, Joseph F. Poland and Sol Shor. Several of them joined Witney on a later project, Spy Smasher (1942). Both Spy Smasher and Captain Marvel comic books were originally published by Fawcett, until the company got out of the comic book business and sold its stable of characters to National Periodical Publications, which later became DC Comics.

Spy Smasher, as his name implies, is committed to wiping out the spies and saboteurs who would destroy our America. In his civilian identity, Alan Armstrong faked his death that he might operate behind enemy lines. However, when he is captured in German-occupied France, he is sentenced to death by firing squad. Fortunately, a sympathetic Frenchman foils Armstrong's execution and smuggles him out of the country.

Meanwhile, the Nazis are up to no good, intending to flood the United States with counterfeit currency to undermine America's economy. Aboard a train, the Nazi agent asks for a light from the wrong man – Spy Smasher himself, Alan Armstrong! A fight ensues, and Armstrong is almost thrown from the train, if not for the timely intervention of… Spy Smasher?

After defeating the enemy agent, it is revealed that the two Armstrongs are in fact twin brothers, and a more sedate family reunion I've never seen. You'd think that brother Jack, after learning his supposedly dead brother Alan has returned from the grave, would be much more joyous. Instead, it's as if he's merely home from college for the holidays.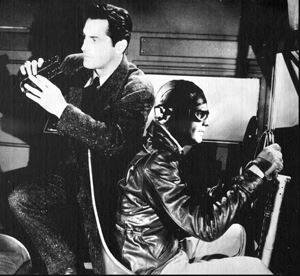 William Witney's trick photography allowed Kane Richmond to appear as both Amrstrong twins

The Brothers Armstrong are portrayed by Kane Richmond, who was a common face among the B features of the 1930s and '40s. In Spy Smasher, he pulls double duty as both Alan and Jack, and makes each pretty much interchangeable for the other. Usually, clothing is the only clue to separate the two twins.

To his credit, director William Witney makes deft use of camera trickery, featuring both brothers in the same scene. This essentially required such scenes to be shot twice, featuring Richmond as each brother. Creative editing allows for cutting back and forth from Jack and Alan, and Richmond's double. In some instances, keeping the double's features obscured enough to maintain the illusion comes easy enough to make it seem effortless.

Spy Smasher is on the trail of a Nazi spy leader known as the Mask. Needless to say, no one can readily identify him because he always wears a mask. But rather than he be one of a number of suspects drawn from a common pool, he is instead a Nazi agent hidden somewhere in the United States. When his attempt to destabilize American currency is blocked, he follows it up with a new Nazi weapon, an advanced airplane that the Americans must have. This plot line is later replaced by another until the final chapter when, to no great surprise, Spy Smasher is victorious.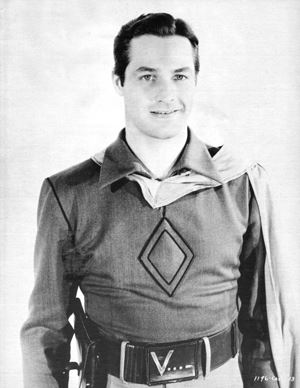 Kane Richmond as Spy Smasher

But you pretty much know that from the opening of the first chapter. The four opening notes of Beethoven's 5th is echoed by the 4 tones for V in Morse code: three short, one long. Then the searchlights in the background freeze, to form the V for Victory symbol. Beethoven's music is then adapted throughout the serial's 12 chapters.

It should be noted that the production was launched prior to America's entry into World War II. Nevertheless, German agents are clearly the villains of the piece, rather than a politically sensitive approach of not naming the country in question.

Like Adventures of Captain America, Spy Smasher is a fun romp with all the thrills and excitement you come to expect from a quality Republic serial. Director William Witney delivers the goods, even offering a plug for another of his productions, Dick Tracy vs. Crime Inc. Witney would go on to successful career in television, helming episodes of many TV westerns such as Bonanza, Frontier Doctor, The Virginian, and Wagon Train.
Last Updated: September 6, 2021 - 08:15