Kekkaishi 3-in-1: Volumes 1-2-3
By Leroy Douresseaux
May 25, 2011 - 09:46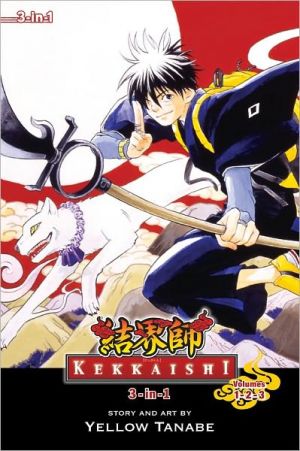 Kekkaishi 3-in-1 Volumes 1-2-3 cover image is courtesy of barnesandnoble.com.
Rated "T" for "Teen"
Kekkaishi is a shonen manga from creator Yellow Tanabe that focuses on 14-year-old Yoshimori Sumimura. By day, Yoshimori is just a student, going to high school with his pretty 16-year-old neighbor, friend, and rival, Tokine Yukimura.
By night, both Yoshimori and Tokine are demon hunters known as "kekkaishi" (the word means "barrier master"). Kekkaishi specialize in creating magical barriers around their prey, especially the natural enemy of the kekkaishi, a race of demons known as the ayakashi. Both teens' families fight over which of the two will be a true practitioner of the art of the kekkaishi.
VIZ Media is reprinting early volumes of Kekkaishi in their "3-in-1" editions, which collect three volumes in one larger book that is the same trim size as the original volumes. Kekkaishi 3-in-1, Volumes 1-2-3 gives readers a chance to take a trip back to the beginning of the series. Readers will get to see a 9-nine-year old Yoshimori in action and also be witness to the incident that played a large part in shaping his personality and his goal to continue to improve as a kekkaishi. Yoshimori and Tokine also take on amphibious demons, the goofy ghost of a young pastry chef, a charming teacher who uses magic snakes, and a dangerous, embittered demon dog.
THE LOWDOWN: Although it is not part of the magazine, the superb Kekkaishi would fit perfectly in the legendary shonen manga anthology, Shonen Jump. Kekkaishi is like Naruto and other boy hero shonen manga. I also find similarities in the art of Kekkaishi creator Yellow Tanabe to the 1960s comic books Steve Ditko did for Marvel Comics, in everything from characters' facial expressions, in Tanabe's compositions, and in the visual concepts.
I think what makes Yoshimori Sumimura endearing is his scrappy nature. He is a fighter, and not only must he fight demons, but he must also fight the notion that he is not living up to his potential – something he seems to believe as much as anyone else. He may be destined for great things, but that greatness doesn't seem to be naturally in him (as it is with characters like Naruto and Harry Potter). It's fun to follow his journey because Tanabe is such a vivid storyteller that I feel like I am right alongside Yoshimori.
POSSIBLE AUDIENCE: Readers looking for the best shonen manga will enjoy Kekkaishi.
A
Last Updated: August 31, 2023 - 08:12