Kekkaishi: Volume 32
By Leroy Douresseaux
June 18, 2012 - 15:25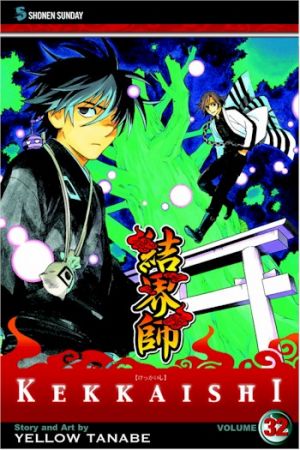 Kekkaishi Volume 32 cover image is courtesy of barnesandnoble.com.
Rated "T" for "Teen"
By day, teenager Yoshimori Sumimura is just a high school student. By night, he is a kekkaishi, a demon hunter that specializes in creating magical barriers around his prey. Yoshimori's pretty 16-year-old neighbor and friend, Tokine Yukimura, is also a kekkaishi, and both teens' families fight over which of the two will be a true practitioner of the art of the kekkaishi.
As Kekkaishi, Vol. 32 begins, Nichinaga begins his war against the Shadow Organization (the ruling body of the kekkaishi). He starts by launching an attack on the Arashizaki Shrine, which is also the Ogi Family compound. The shrine's guardian, Shichiro, finds even his formidable powers tested. Enter Yoshimori, Tokimori Hazama, and Lord Chushinmaru. When he joins the battle, Yoshimori, Tokimori's student, shows what he's learned – his shinkai.
Next, Tokimori tells to Yoshimori the history of Chushinmaru, which also reveals how and why Tokimori is connected to Chushinmaru. Meanwhile, Nichinaga moves on to the Shadow Organization headquarters.
THE LOWDOWN: Although this is the first time I've read the Kekkaishi manga since last August, I find that I still like it as much as ever. Perhaps, because I see similarities and allusions to the work of comic book artist Steve Ditko, to Harry Potter, and to various series published in Shonen Jump magazine, Kekkaishi holds my attentions and captures my imagination.
Kekkaishi is like many magical boy stories and battle manga (such as D.Gray-man, Bleach, Nura: Rise of the Yokai Clan, and Naruto); it offers supernatural intrigue and glorious combat between inventively designed oddballs, and there are always several characters that prove to be quite interesting. That has a proven record of success and Kekkaishi is successful, indeed. In addition to the usual, there is also a sad tale of misspent fatherly ambition that is as heartrending as it is appalling.
POSSIBLE AUDIENCE: If you like Naruto, you will definitely want to try Kekkaishi.
Rating: A- /10
Last Updated: August 31, 2023 - 08:12