Jiu Jiu: Volume 3 manga review
By Leroy Douresseaux
January 7, 2013 - 10:50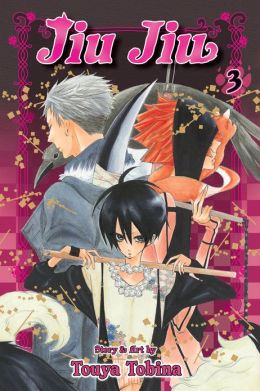 Jiu Jiu Volume 3 cover image is courtesy of barnesandnoble.com
Rated "T+" for "Older Teen"
"Dark Hunters" are people who hunt and slay the demons that lurk in the shadows. Takamichi Hachioji is a teen girl born into a family of hunters, The Hachioji Clan, the largest clan of Dark Hunters. Her family gave her a pair of half-animal/half-human wolf-pups, named Snow and Night, which she must train to be her "Jiu Jiu," a Dark Hunter's familiar and hunting partner. Can she keep them on the leash?
Jiu Jiu, Vol. 3 opens on the day of the "Family Head Meeting." This is a meeting and social gathering of the heads of the Hunter clans and branch families. Now, Night and Snow will meet Mika Nekozane, head of the Nekozane Clan and Takamichi's ex-fiancé. When Seijuro Shiratori, Takamichi's supposed current fiancé and his partner, Ripple, a Crow Tengu, arrive old jealousies and feuds return with a fury. As various factions question the choice of Takamichi as heir of the Hachioji Clan, ugly secrets spill out.
THE LOWDOWN: The third volume of the Jiu Jiu manga is a return of the first volume's edginess. Creator Touya Tobina offers conflict and rivalries filled with bitterness and jealousy. The "Family Head Meeting" is a gathering of back-stabbing and some face-front stabbing, as violence erupts, which makes for several juicy scenes. Jiu Jiu is a Shojo Beat title like few others. It is dark and a bit nasty (in terms of the innuendo and violence). This dark treat has bite.
POSSIBLE AUDIENCE: Readers looking for the offbeat in Shojo Beat will find a beastly treat in Jiu Jiu.
Rating: A- /10
Last Updated: August 31, 2023 - 08:12