Jiu Jiu: Volume 5 manga review
By Leroy Douresseaux
June 29, 2013 - 18:29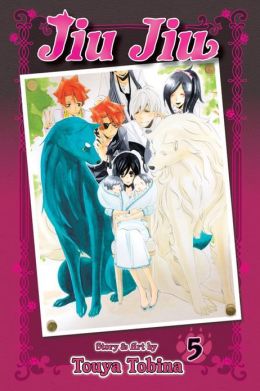 Jiu Jiu Volume 5 cover image is courtesy of barnesandnoble.com.
Rated "T+" for "Older Teen"
Jiu Jiu is a shojo manga from creator Touya Tobina. The series is essentially a supernatural, dark fantasy with elements of both horror and teen romance. VIZ Media's publication of the series comes to an end with Jiu Jiu Volume 5.
Jiu Jiu focuses on Takamichi Hachioji, a teen girl born into a family of hunters. The Hachioji Clan is the largest clan of Dark Hunters. "Dark Hunters" are people who hunt and slay the demons that lurk in the shadows. After the death of her twin brother, Takayuki, Takamichi receives from her family a pair of half-animal/half-human wolf-pups, named Snow and Night. She must train them to be her "Jiu Jiu," a Dark Hunter's familiar and hunting partner. The question is not only can she train them, but because they can transform into humans, can she also keep them on the leash?
As Jiu Jiu, Vol. 5 (Chapters 20 to 23/Final) opens, Kankuro moves forward with his plan to be the new head of the Hunters – by force. That means he must first commit a shocking murder and then, continue to agitate against the use of Jiu Jiu. Kankuro is helped by the actions of Snow and Night, especially of Snow
Meanwhile, questions continue to arise as to the true fate of Takayuki Hachioji, Takamichi's brother. It also seems as if Takamichi will marry her current fiancé, Seijuro Shiratori. Now, all the intrigue comes to a head, but how will it leave Takamichi and her "dogs," Snow and Night?
THE LOWDOWN: The Jiu Jiu manga proved to be a dark and edgy series, filled with characters that played at rivalries filled with bitterness and jealousy. It also had a weird romantic side, one that teased of a love between a woman and characters that were human, but could also be described as beasts, creatures, and demons.
I am disappointed to see it end, as the concept is one that could have run longer. The final chapters are melancholy, and the ending is bittersweet for reasons, which if revealed, would be irritating spoilers. However, I must repeat that Jiu Jiu should be read because it is dark and a bit nasty (in terms of the innuendo and violence). It isn't safe; it has bite, and sometimes, that is a good thing for a shojo manga to have.
POSSIBLE AUDIENCE: Readers looking for the truly offbeat will find a beastly treat in the Shojo Beat title, Jiu Jiu.
Rating: A- /10
Last Updated: September 6, 2021 - 08:15