Jiu Jiu: Volume 2 manga review
By Leroy Douresseaux
October 16, 2012 - 14:42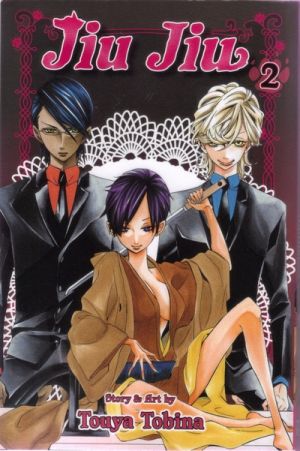 Jiu Jiu Volume 2 cover image is courtesy of barnesandnoble.com.
Rated "T+" for "Older Teen"
Takamichi Hachioji is a teen girl who was born into a family of "Dark Hunters," people who hunt and slay the demons that lurk in the shadows. The Hachioji Clan is the largest clan of Dark Hunters. Takamichi's twin brother, Takayuki, was killed while protecting her, so she became the clan's heir. Her family gave her a pair of half-animal/half-human wolf-pups, named Snow and Night, which she must train to be her "Jiu Jiu." A Jiu Jiu is a Dark Hunter's familiar and hunting partner.
Jiu Jiu, Vol. 2 introduces new supporting characters. First, there is Prince Meru, the vampire pig. He looks like a little kid, but he needs Takamichi's blood for a ritual that matures him into an older teen. Standing in Meru's way are the protective Snow and White, and they have a taste for piglet.
Then, a trip to the beach is supposed to be fun for Takamichi and her classmates, but the growing rivalry between Snow and Night and Meru make things crazy. Crazier still is the beach house where they're staying; there is a spirit guarding the place and it doesn't want these filthy young people around. Finally, it's Takamichi's birthday, but she says it isn't. And why do Snow and Night think they should be the ones receiving gifts?
THE LOWDOWN: Although the lead characters fight monsters, the Jiu Jiu manga is not a shonen battle manga. It is a supernatural shojo series – part high school romance and part strange, high school comedy. The cutesy drawings of animals and the occasional super-deformed cannot hide this series' odd vibe.
This second volume lacks the first volume's edge, but the relationship between Takamichi and her Jiu Jiu will provide a steady source of conflict. There are dark undercurrents beneath the supernatural leanings and playful innuendo. Where is creator Touya Tobina taking this series? The answer makes this series worth following.
POSSIBLE AUDIENCE: Readers looking for the offbeat in Shojo Beat will find a beastly treat in Jiu Jiu.
Rating: B+ /10
Last Updated: August 31, 2023 - 08:12