Hunter x Hunter: Volume 30 manga review
By Leroy Douresseaux
April 28, 2013 - 14:20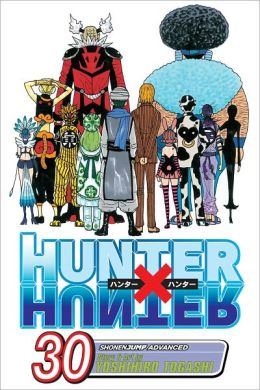 Hunter x Hunter Volume 30 cover image is courtesy of barnesandnoble.com.
Rated "T+" for "Older Teen"
They are Hunters, the special breed devoted to tracking down priceless items, treasures, mystical places, magical beasts, and even other people. Prospective Hunters must take a highly selective licensing exam, but only 1 in 100,000 can pass this grueling qualification exam. This will give them access to restricted areas and amazing stores of information and the right to call themselves "Hunters." Gon Freecss dedicates himself to being a great Hunter like his father, Ging Freecss.
Hunter × Hunter, Vol. 30 (entitled Answer – Chapters 311 to 320) features the final showdown between the Hunters and the Chimera Ants. As the Ant King's memory returns, all he wants is to see the blind Gungi player, Komugi. Meanwhile, Welfin, Hina, and Bizef head to Meteor City to find Gyro, and Reina and Bloster arrive at Reina's home. Also, the genocide in East Gorteau is finally widely publicized.
When Netero steps down as Chairman of the Hunter Association, it's time to choose a new leader. That's why there is a big meeting of the Hunter Zodiacs, the top 12 Hunters as chosen by the chairman to manage the organization when he is unavailable. Pariston (the rat) steps forward to take charge of the 13th Chairman General Election, but will the other Zodiacs allow that? And where is Gon?
THE LOWDOWN: What I've called a "Bizarro" Naruto, the Hunter × Hunter manga gets even weirder with Vol. 30. It has an especially dark tone, and some characters die, including a major one. Plus, the lead character is passive and otherwise missing in action in this volume.
The mood is solemn, for at least part of the story. Some of the narrative has social and political allusions to the real world. The election subplot takes the story in a different direction. The tone turns strange and stranger. It is odd that the election is oddly comic. It's off-putting, but I think I want more. See you next volume.
POSSIBLE AUDIENCE: Readers looking for off-beat shonen will want to try the Shonen Jump Advanced title, Hunter × Hunter.
Rating: B+ /10
Last Updated: August 31, 2023 - 08:12