Comics / Comic Reviews / More Comics
Hotwire: Requiem for the Dead
By Leroy Douresseaux
June 15, 2010 - 18:35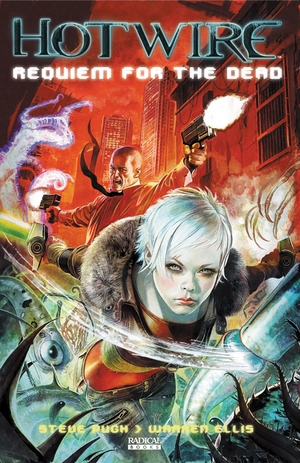 Hotwire: Requiem for the Dead cover image
Apparently, Hotwire was a comic book project cooked up by writer Warren Ellis (then, relatively new) and veteran artist Steve Pugh during the 1990s comic book boom. The demise of its planned publisher put Hotwire on the shelf. Years, later Steve Pugh revived the project for Radical Publishing, but now, Pugh was both artist and writer. The result was a four-issue miniseries, Hotwire: Requiem for the Dead, now collected in a trade paperback.
Hotwire is set in a near future scenario, a world where the living and the dead share the same space. These dead are not called "ghosts," but rather, they are referred to as "Blue Lights." Most of the Blue Lights are harmless; they are like witless drones, roaming the streets and hiding from city lights. However, some Blue Lights want more – much more: revenge, power, or maybe a second chance at something. Some of them even want to swell the ranks of the departed by killing the living. Then, there are a rare few who want it all – revenge, power, and lots of victims.
Alice Hotwire, Detective Exorcist of Metro Police has the tech, the brains, and the kick-ass skills to take down Blue Lights, and because she's the best on the Blue Light beat, her fellow officers hate her for it. In the midst of a surge of Blue Light activity, Alice discovers that someone is turning Blue Lights into ghostly weapons of mass destruction. Meanwhile, the city is at the breaking point, as citizens fill the streets to protest a brutal beating of a civilian by two corrupt cops. Alice and her undermanned and under-funded department are all that stand between the city and chaos. Now, she's forced to do something she would rather not – rely on a fellow officer who really pisses her off, Detective Peter Mobey, to have her back and to help her save the city.
For someone writing his first miniseries or graphic novel, Steve Pugh has certainly delivered a stunner in Hotwire: Requiem for the Dead. The main plot is nice, streamlined, and relatively straightforward for a sci-fi, horror, action hybrid such as this. There are enough subplots to make this a story twice its size; however, Pugh deftly and efficiently squeezed it all into this pugnacious little bastard of a story that will punch your imagination every few pages. This is a ghost story with a cool hook, a cop story with true grit, and a horror concept that offers kinetic action with its chills.
Obviously, I think that Pugh's visual storytelling is potent, but I'm surprised because the art is so pretty and textured and layered, like a series of oil paintings. At first glance, this looks like portfolio pieces rather than a sequential narrative, but it is indeed graphical storytelling. The rich colors and iridescent effects Pugh likely achieved with a computer, are fiery, and each panel has its own individual essence. Pugh also captures the expressive nature of the human face quite well, especially with Peter Mobey.
In addition to collecting Hotwire: Requiem for the Dead, this trade paperback includes all the covers (including variants); a discussion with Pugh about the series; a color version of a six-page story published four years ago; and several pages of images from the original version of Hotwire.
A-
Last Updated: August 31, 2023 - 08:12