Hotwire Comics #2
By Leroy Douresseaux
Apr 17, 2008 - 11:26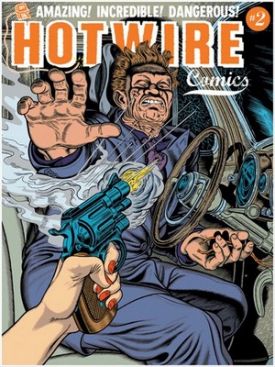 Tim Lane's cover - a quite striking visual image. Would love to have the original art.
HOTWIRE COMICS #2
Editor Glenn Head has filled the second volume of his cartoon/alt-comix anthology, Hotwire Comics, with comics, cartoons, and paintings that are either sublime and ridiculous or engaging and witty. Head epitomizes the weirdness of Hotwire Comics #2 with a mad tale of his own, called "Oozing Dread," which reads like one of Alan Moore's conspiratorial comix brews ("The Cobweb" stories, for instance).
Actually, Hotwire Comics #2 traffics in outstanding narratives, a collection of fiction and quasi-fiction that offer superb storytelling. Tim Lane grabs the cover with a striking visual that ties into his powerful short story, "Outing," which has a vibe that feels hardboiled, like an EC comic or 50's era rebel movie. As good as "Outing" is, it's surpassed by the masterpiece of Hotwire Comics #2, Mary Fleener's hallucinatory drug date tale, "Niacin." David Lasky and Chris Estey's dream-infused Mick Jones ("The Clash") tale is a close second. Tobias Tak retells "Jack and the Beanstalk," in the story "Gaboon Meet Krakopf," which might delight Sandman and Fable fans. Doug Allen offers a kick in the nuts with "Hillbillies 'R' Dumb."
It's not all serious. Among others, Ivan Brunetti offers his idiosyncratic single panel humor, and Sam Henderson's rubbery, robo-bestiality tale is two-pages of sweet funny. Of course, the mad genius Johnny Ryan appears, and one of the things for which he is known is skewering self-important cartoonists, critical darlings, and so-called nerd gods (like a Neil Gaiman or a Chris Ware). This time he takes on Frank Millarkey... I mean, Frank Miller – not be missed!
I wouldn't call this a great comix anthology (like RAW or Zap Comix), but if Head keeps bringing this gloriously weird art and excellent storytelling, I'll reconsider.
A-
Last Updated: Jun 26, 2018 - 9:28