Comics / Comic Reviews / More Comics
Hotwire: Deep Cut #1
By Leroy Douresseaux
September 22, 2010 - 09:16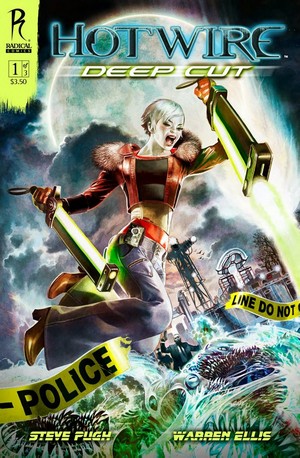 Hotwire: Deep Cut #1 cover image
In the world of Alice Hotwire, the dead don't become the dearly departed. They return as blue-light ghosts that feed off the electromagnetic waste of billions of wireless devices. While most drift about harmless and witless, some can take more solid form and are very dangerous. Alice dispatches those.
It is six months since the events depicted in Hotwire: Requiem for the Dead. As Hotwire: Deep Cut #1 opens, Alice Hotwire is taking some much needed time off, but her extended break is endangering her position as a Detective Exorcist. Now, Alice and her erstwhile partner, Detective Peter Mobey, will face a secret government project that may turn the city into a living nightmare. In the meantime, a former lover reappears in Alice's life, and a multi-car pileup throws the light on a rogue unit within the Metro Police.
THE LOWDOWN: The new Hotwire series gives the readers a glimpse into Alice's past and promises to offer a peek at her future. Deep Cut is as explosive and as imaginative as the first series, Requiem for the Dead, and this first issue will leave you wanting more. While Steve Pugh has been writing and drawing Alice Hotwire, the concept was created by Pugh and Warren Ellis back in the early 1990s. I doubt, however, that Ellis, who isn't involved with the current series, could do better than Pugh is doing now. Hotwire is an excellent mix of science fiction and the supernatural, and it is pure cool.
POSSIBLE AUDIENCE: Readers looking for good sci-fi action will like Hotwire: Deep Cut.
A
Last Updated: September 6, 2021 - 08:15