Honey Hunt: Volume 1
By Leroy Douresseaux
March 22, 2009 - 09:05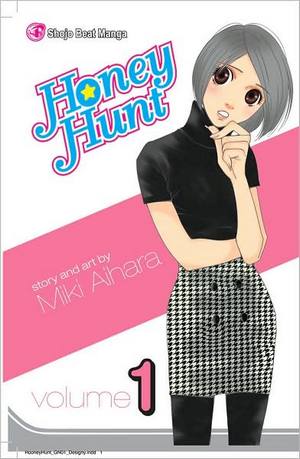 Honey Hunt Vol. 1 cover is courtesy of barnesandnoble.com.
Rated "T+" for "Older Teen"
Yura Onozuka is the 17-year-old daughter of acclaimed actress, Yukari Shiraki, and award-winning composer, Takayuki Onozuka. Unpopular in high school, Yura lives in the huge shadow her parents' cast, but when her celebrity parents get divorced, Yura is forced to step out on her own.
In Honey Hunt, Vol. 1, Yura's frustration about her parents' divorce and the lack of time they spend with her finally explodes in rant played out before the celebrity media and paparazzi. Keiichi Mizorogi, her father's manager, takes Yura into his entertainment company, Meteorite Productions, with the goal of turning her into an actress. A TV show job puts Yura in the middle of a tug of war between twin brothers, one a musician and the other a pop idol.
THE LOWDOWN: From start to finish, the first volume of Honey Hunt is exceptional character drama. First, creator Miki Aihara pulls the reader into a dysfunctional family dynamic that feels authentic. Then, Aihara creates a highly convincing school setting in which Yura's troubles with her peers has a sharp sense of verisimilitude. If that weren't enough, Aihara soon has her besieged heroine thrown into the snake pit that is the world of TV and film, with its nerve-wracking auditions, shifty personalities, and devious competitors.
Honey Hunt sometimes reads as if it were one of those evening TV soap operas that were broadcast in the 1980s and 1990s (like "Dallas" or "Dynasty"). Some of the characters are indeed catty, but the character drama and the dramatic conflict are strong. In the end, however, I think (judging by the contents of this first volume) that Honey Hunt will be less soap opera theatrics and more strong character drama. The series may be one that smartly chronicles characters dealing with the trials and tribulations of romance, family conflicts, and workplace rivalries, but the emphasis on character study will reign over purely genre considerations.
POSSIBLE: If readers aren't sold on the character drama alone, manga-ka Miki Aihara's absolutely gorgeous art should make Honey Hunt (a "Shojo Beat" title) a must-have.
A
Last Updated: August 31, 2023 - 08:12