Honey Hunt: Volume 3
By Leroy Douresseaux
October 26, 2009 - 09:09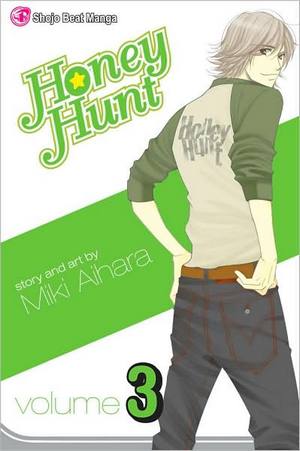 Honey Hunt Volume 3 cover image is courtesy of barnesandnoble.com.
Rated "T+" for "Older Teen"
Seventeen-year-old Yura Onozuka used to live in the shadows cast by her parents, acclaimed actress, Yukari Shiraki, and award-winning composer, Takayuki Onozuka. After her celebrity parents divorced, Yura was forced to be independent. With the help of her father's manager, Keiichi Mizorogi, Yura embarks on her own acting career.
As Honey Hunt, Vol. 3 opens, Yura finds herself facing off against an old rival of her mother's – the domineering actress Rinko Koizumi – during a script reading. However, a minor accident just may give Yura either the edge or the confidence she needs to convince everyone that she is a real actress. Also, Yura and pop star Q-Ta Minamitani grow closer, perhaps not as close as Yura would like (nor is it happening as fast as she'd like). Meanwhile, Keiichi and Haruka, lead singer of the boy band KNIGHTS (and Q-Ta's twin brother) watch this budding romance with interest.
THE LOWDOWN: Manga-ka Miki Aihara deftly varies the mood and tone of her narrative from chapter to chapter. She has placed her heroine, Yura, in the snake pit (albeit the fluffy shojo manga kind) of television acting. Aihara has also filled Yura's school life with rivals and jealous teen wenches. That's not all, because Yura finds herself falling in love with one teen brother and suddenly developing confused feelings for the other.
Because Yura has so much at stake, if she's going to succeed as an actress, overcome schoolyard bullies, and win at young love, her story is richly engaging. Honey Hunt is a drama with lots of conflict, and major developments suddenly appear in practically every chapter. Readers cannot help but be drawn into the nonstop surprises. The behind-the-scenes excitement and scheming make this a soap opera with a lot of honey in the pot.
POSSIBLE: Readers looking for a powerful love triangle built on strong characters will find it in the excellent Honey Hunt.
A
Last Updated: August 31, 2023 - 08:12